We are positive that you all have heard of Black Mirror – a show known for its brutal commentary on the impact of advanced technology.
While some shows may bear a resemblance to Black Mirror, others may not. Although the shows on our list might not be as good as Black Mirror, be sure that they'll awaken well-known emotions such as discomfort, fear, and anxiety. With the new season of Black Mirror coming out this summer, we would like to present our list of top 10 TV shows like Black Mirror.
10. Love, Death & Robots [2019 – present]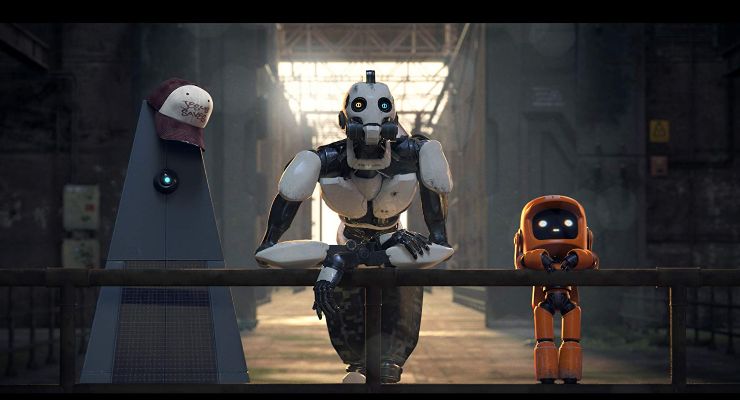 Photo credits: Netflix
If you're a fan of sci-fi horror with an analogy twist and enjoy animated TV shows, then Love, Death & Robots is perfect for you. This animated TV show primarily focuses on the future or, we could say, the aftermath of shows like Black Mirror. While some episodes explore other planets and races, you'll encounter scenarios similar to those in Black Mirror. You'll also experience a sense of discomfort as you witness the horrors that the future of big tech holds for us. One additional hint is that each episode will fall under one of three concepts: love, death, robots, or a combination of these three.
What makes this show great is first of all the wonderful artwork. Each episode has a different style going from cartoonish to anima-like style, to fully realistic graphics, etc.  The cast always changes and the most important thing about Love, Death & Robots is the length; each episode is between 6–21 minutes long so what're you waiting for?
9. Electric Dreams [2017 – 2018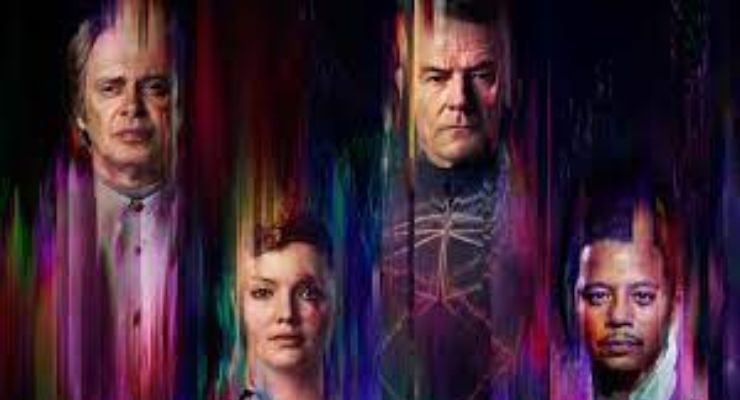 Photo credits: Amazon Prime
Electric Dreams has been called out by many fans of Black Mirror as a copycat, but we have to spoil it for you: it's not. The show is an adaptation of works by one of the most influential sci-fi writers, Philip K. Dick. Electric Dreams has only 2 seasons, and the episodes, much like Philip K. Dick's works, always follow a formula of "What if." Like Black Mirror, this show is an anthology series, so you can choose to watch episodes based on your preferences.
If you're familiar with Philip, you can skip this part; but if you're not, you should know that he has written numerous sci-fi stories. Most of his best stories and ideas have already been adapted into comics, movies, video games, etc. The cast of this show is amazing and features Anthony Boyle, Tuppence Middleton, Anna Paquin, Terrence Howard, and Janelle Monáe. If you enjoy anthology sci-fi, don't miss out on this one, although it doesn't focus as much on technology's impact on society as Black Mirror does.
8. Maniac [2018]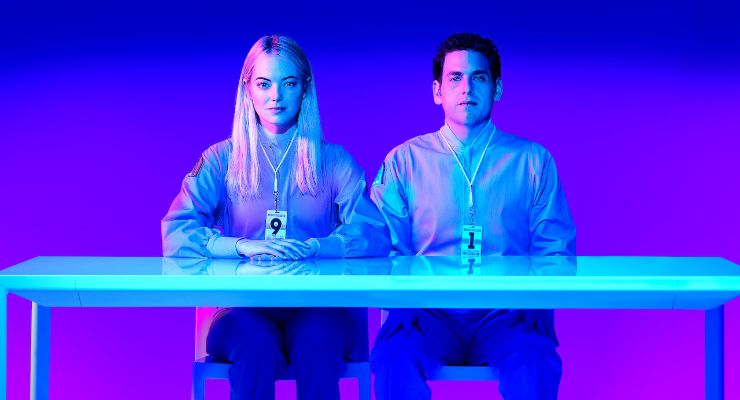 Photo credits: Netflix
Maniac is a psychological black comedy-drama that follows Annie Landsberg and Owen Milgrim, who become test subjects in pharmaceutical drug experiments aimed at fixing their minds. The show explores the connection between humans and technology and raises questions about the coexistence of nature and technology.
Another remarkable aspect of this show is its cast, starring Jonah Hill and Emma Stone. Both actors deliver exceptional performances, you can easily relate to these characters, their problems, and their worlds. If you missed out on this one be sure to check it out, because it's a 10-episode mini-series.
7. Inside Job [2021-2022]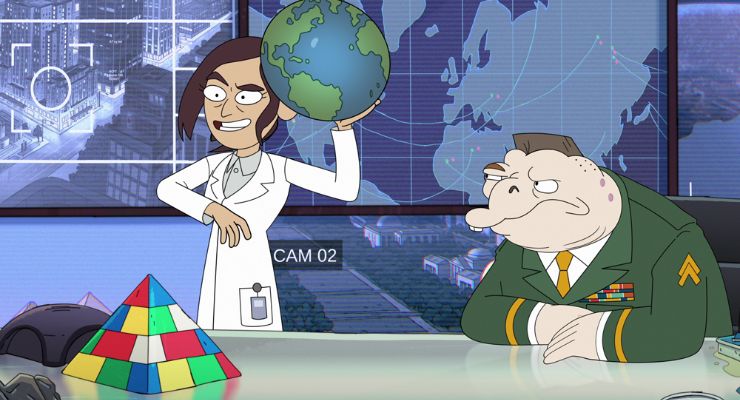 Photo credits: Netflix
Inside Job is another animated series that captures Black Mirror but in a more humorous manner. Shows like Black Mirror typically depict dark distopias, horrible plot twists, and evil conspiracies. However, let's imagine for a moment that it's all real. Inside Job follows Reagan Ridley, an anxious and anti-social genius, as she and her team attempt to cover up all the conspiracy theories that you've probably heard of. This is why Black Mirror and Inside Job are so similar—they both question the viewer's surroundings from robotic presidents,  Mothman, Pope, aliens, mushrooms, etc.
The Inside Job only ran for 2 seasons, and the voice acting and animation were incredible. There are some "conspiracy theories" regarding why the second season was shortened and why the show was canceled, but we'll leave it up to you to find out once you watch it.
6. Weird City [2019]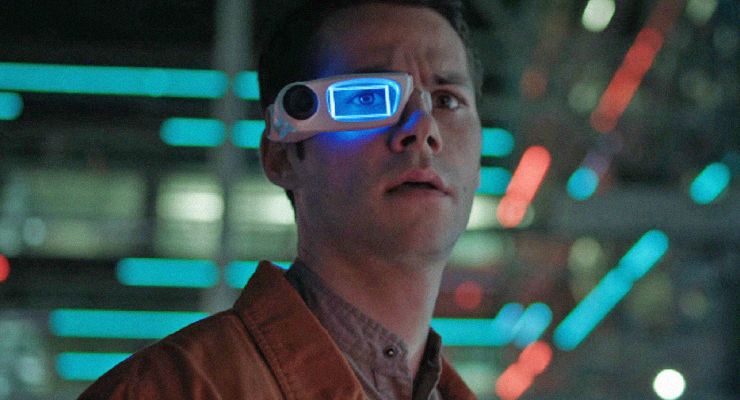 Photo credits: Youtube Premium
Weird City is also a sci-fi dark dystopian technocratic anthology series, and the name speaks for this one because it's truly a Weird City. The story of this one is quite dystopian, it's happening in a city where the rich and the poor are divided by a wall. Similarities to Black Mirror are not just in that future dystopian kind of wat, but also in the use of technology. In the trailer, you'll see the new "contactless" sex, so people could be more powerful…  The show also explored complexities of human relationships, identity, and moral dilemmas all driven by technological advancements and where we're heading full speed ahead.
The show is created by Charlie Sanders and the fan-favorite Jordan Peele. Jordan Peele is also one of the creators of the new or rebooted Twilight Zone. The cast stars Dylan O'Brien, Ed O'Neill, LeVar Burton, Rosario Dawson, and Awkwafina. The best part of Weird City is that it's free because it's a YouTube Original, so you can watch it right away free of charge.
5. Dark [2017 – 2020]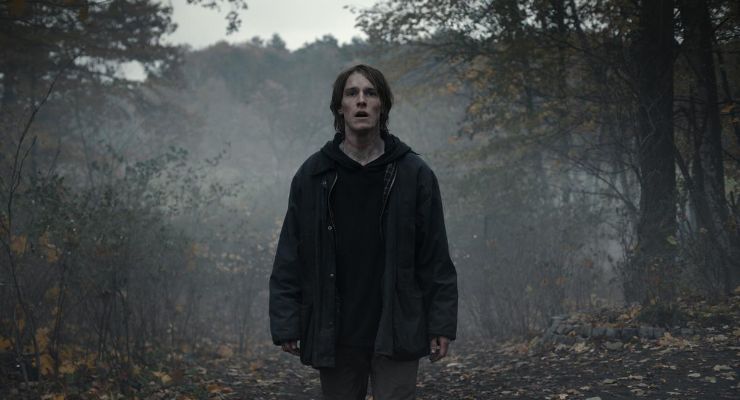 Photo credits: Netflix
By definition TV show Dark is a crime drama mystery with a great story but there is more to it. You'll like this show if you're a fan of exploring dark themes and overthinking which you sure are; you wouldn't be Black Mirror, would you then? The story follows a family saga after the disappearance of two young boys. There is a supernatural element to it and both Dark and Black Mirror are masters of creating a sense of unease and existential dread. Another great thing is the fact that Dark is one of the best shows about time travel so be sure to pay close attention to the plot because you can easily overlook an important event. 
The cast is amazing starring Louis Hofmann, Oliver Masucci, and Julika Jenkins. Their performances are great and the overall character development is what you'll definitely fall for. Dark is about time traveling while Black Mirror is more about the technological impact on our society, but they're both dark to the bone. Both shows will challenge viewers' perspectives on reality and how fragile the human mind and life are.
4. Room 104 [2017 – 2020]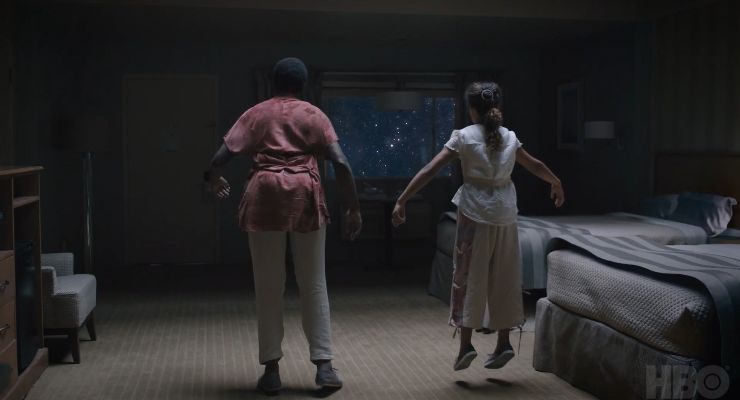 Photo credit: HBO
If you're a fan of a really well-written analogy supernatural psychological thriller, Room 104 is definitely for you. Room 104 is a room in a hotel where supernatural things occur. This is not something that's ultra similar because Black Mirror is more about technology (but just in that way). In Room 104 the relationship between characters is amazing as well as the suspense, music, cinematography, and other aspect that you're familiar with in Black Mirror.
The cast in Room 104 is awesome, and it features Melonie Diaz, Ross Partridge, James Van Der Beek, Mae Whitman, and Rainn Wilson. The actors in this TV show are amazing, and their performances, as well as the music, will truly convince you that there is something surreal inside Room 104. This is definitely one of the shows like Black Mirror or at least one that'll evoke the same feeling of discomfort.
3. Alice in Borderland [2020]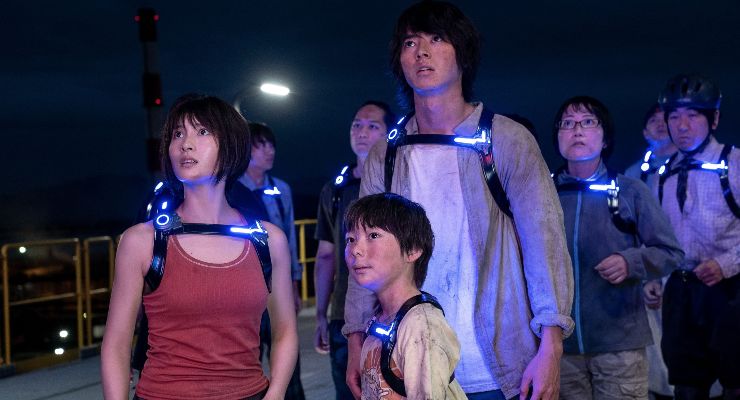 Photo credit: Netflix
Alice in Borderlands is the one where there is even an asteroid, and that's just the beginning. In the show, an asteroid hits Tokyo, and a series of "games" is unleashed. The story follows three friends, Arisu, Chota, and Karube, as they solve escape room-style puzzles. Unlike other shows on the list, this one isn't an anthology series; instead, it's a sci-fi thriller.
What makes it so relatable to fans of shows like Black Mirror are the themes. We think that this show deserves more respect as it did a great job of exploring themes such as isolation, surveillance, and moral dilemmas. Behind all of this, in the end, is good old advanced technology. The storytelling is different, and this show will probably look and feel more like a sci-fi fantasy to hardcore fans, but give it a try; it's just got two seasons. The main three stars are Kento Yamazaki, Tao Tsuchiya, and Nijirô Murakami.
2.
Inside No. 9 [2014 – present]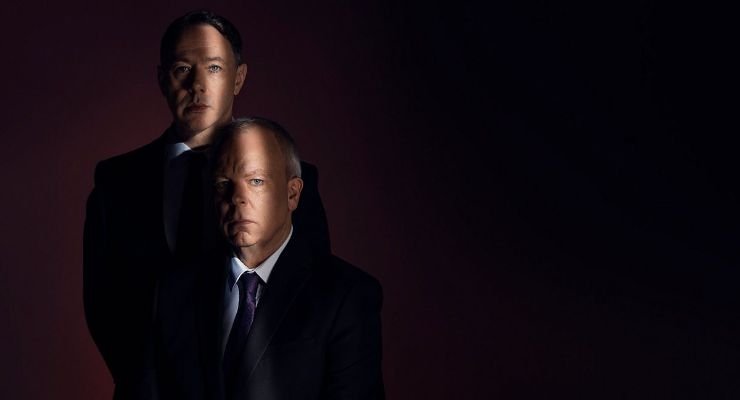 Photo credit: BBC Two
Inside No. 9 is a British black comedy anthology show. Like Black Mirror, this show delves into the deep realms of psychosocial, psychological, and sociological torment that humans experience in their everyday lives. Not all episodes are related to science fiction, each episode delivers an unpredictable plot twist. Additionally, make sure not to overlook the significance of the number 9, which is everpresent in all episodes.
The show is created, written, and stars Reece Shearsmith and Steve Pemberton; in most episodes. The show has a total of 8 seasons, and the episodes are magnificently well-written. Currently, the 8th season is airing, providing yet another reason for you to give it a try.
1. The Twilight Zone [1958 – 1964]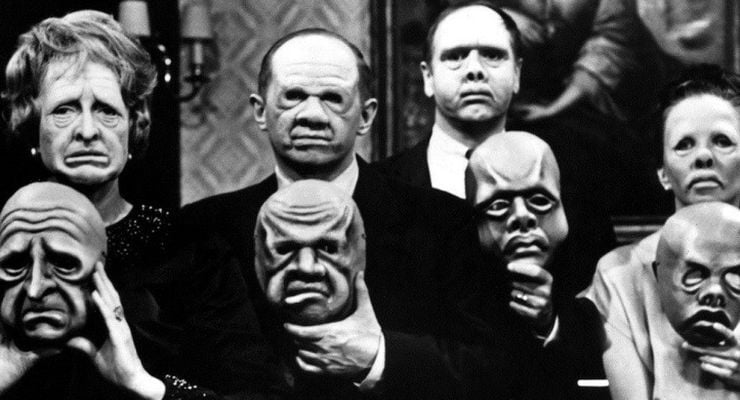 Photo credit: CBS
Twilight Zone is the show that originally inspired the creators of Black Mirror. This show didn't use as much technology as Black Mirror but it was as thought-provoking and often mind-bending. This is the show that covered themes of morality, humanity's darker aspects, and the unexpected twists of fate. This is an evergreen that heavily influenced horror and sci-fi genres; what Scooby-Doo meant for mysteries that's what The Twilight Zone meant for sci-fi and horror.
The Twilight Zone had three "revivals" in 1985, 2002, and 2019 but as usual, non of them could beat the original. The show was created and narrated by Rod Serling and today it's an American classic. This show is what people call "old but gold," and if the creators of Black Mirror liked it, so would you.