There have been numerous TV shows about time travel in the past. Although some shows did have time travel included in part of their plot (like Marvel Agents of Shield), in this list we focused on series that have time travel as a basic premise of the show. With that in mind, we narrowed down our picks to the top 10 TV series that are worth your time. However, keep in mind that there are other fantasy shows that you might like – this is just our pick of the best ones so far.
10. 
Timeless [2016-2018]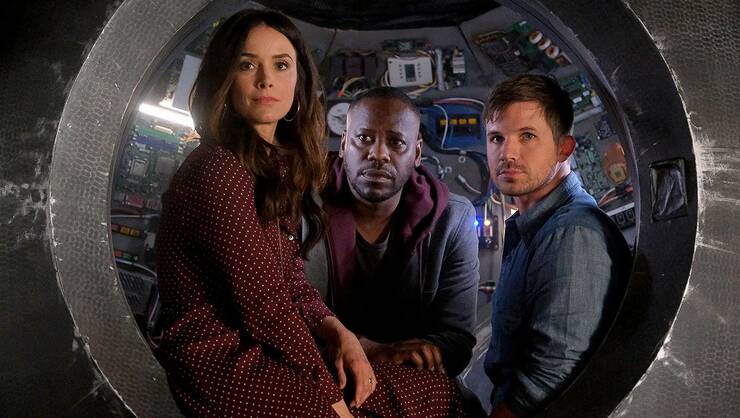 Photo credits: NBC
A hidden gem among TV series about time traveling is NBC's Timeless. The show is a quick watch – it only has two seasons and 28 episodes in total but don't be discouraged by that fact. Timeless still manages to land a meaningful, educating, heart-warming story with a compelling ending. The cast features Abigail Spencer as Lucy Preston a history professor, Matt Lanter as Wyatt Logan, a USA Delta Force Sargeant, and Malcolm Barrett as Rufus Carlin, a programmer. The trio is tasked with capturing a terrorist Garcia Flynn (Goran Visnjic) who is trying to rewrite history.
Although the premise of the show looks very much like what we have seen in Continuum, Travelers and 12 Monkeys, Timeless also offers a variety of real historical events that are shown in the series. The historical part might not always be 100% accurate but it is fun to see the fictional characters interacting with real-life events that took place. Although the show was canceled after two seasons, the viewers still got a well-deserved ending so we highly recommend Timeless.
9. Continuum [2012-2015]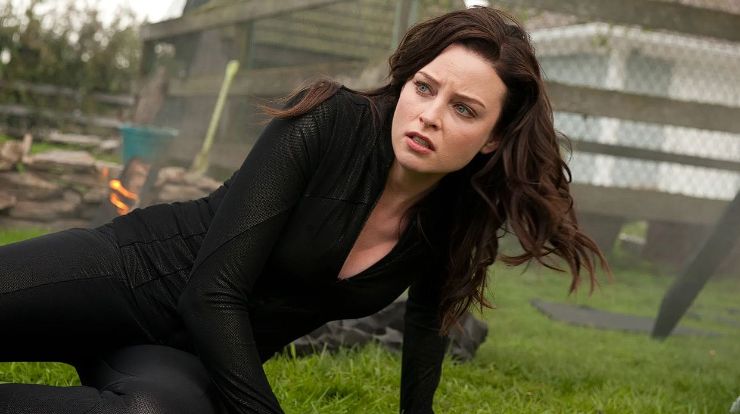 Photo credits: Showcase
One of the classic TV shows that exploited the topic of time travel is Continuum. Stretching through 4 seasons and 42 episodes, Continuum tells a story about detective Kiera Cameron (Rachel Nichols) who goes back in time by accident with a group of criminals called Liber8. The plot takes place in present-day as Kiera tries to stop members of Liber8 from altering the timeline and destroying the future in which corporations have sized the roles of the governments. A teenage wunderkind Alec Sadler (Erik Knudsen) helps her out on her quest as well as her partner Carlos Fonnegra (Victor Webster). 
Although the plot seems like more of what we saw in some earlier TV shows about time travel, the cast does a pretty decent job and the overall setting is fun to watch. As you can see, this show has been produced more than a decade ago but the CGI elements are not that bad and are watchable. But what really gives Continuum a place on our list is the character development that Kiera as a protagonist goes through.
8. Quantum Leap [1989-1993]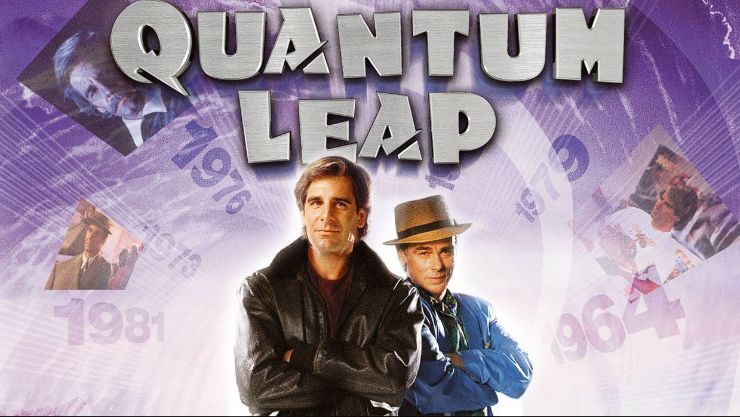 Photo credits: NBC
Quantum Leap is an old-school TV show that older viewers must have watched during 90s. The importance of this show is the fact that after its initial success, many directors pitched ideas for similar shows in the future – and that's how we got so many time travel series. Although Quantum Leap is highly praised, it is a bit outdated nowadays, so it might not be the best choice for younger viewers.
Be it as it may, the show focuses on Dr. Sam Beckett, who gets thrown back in time while experimenting on his own project (Quantum Leap). The protagonist is accompanied by his friend Admiral Al Calavicci (Dean Stockwell) but in the shape of a hologram. Dr. Beckett continues to leap to different people in his own timeline and hopes to correct the past in order to finally leap to the presence. Quantum Leap offers a unique mixture of science fiction, drama, and comedy all while exploring the topic of time traveling.
7. 12 Monkeys [2015-2018]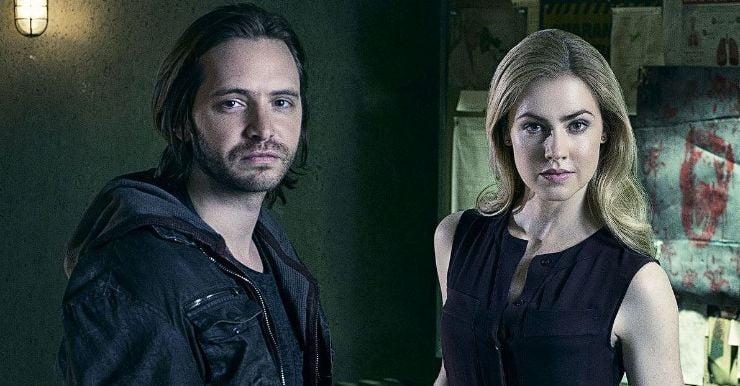 Photo credits: SyFy
12 Monkeys is a sci-fi masterpiece remake of a 12 Monkeys movie (1995) that has time travel in the essence of its plot. As you might remember from the movie, a mysterious group called "12 Monkeys" released the virus which killed over 7 million people and brought humanity to its downfall. The same plot premise is in the show as time traveler Cole (Aaron Stanford) uses an experimental time-traveling device to come back to the present and assist Dr. Cassandra Railly (Amanda Schull) in stopping the virus.
The cast does a great job, especially Amanda Schull, and really brings out the darkness of events that are about to come. This show is perfect for viewers who like disaster like shows combined with time travel – 12 Monkeys has it both.
6. DC Legends of Tomorrow [2016-2022]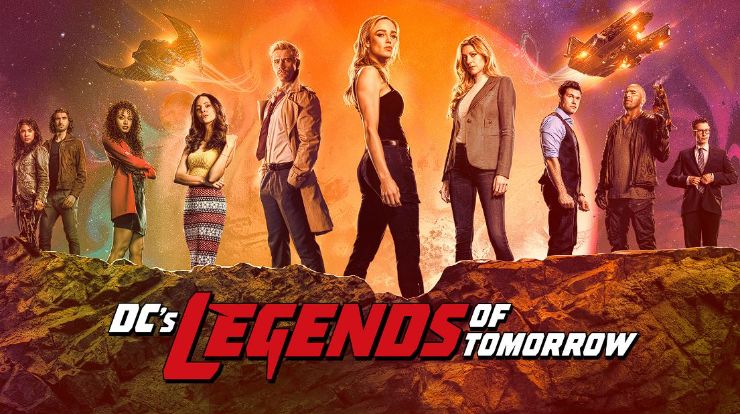 Photo credits: Netflix
Superhero TV shows have all the rage nowadays so it's just fair to put one that's about time travel on this list as well. DC's Legends of Tomorrow might not have the most interesting story but boy, they are fun to watch. Most of the episodes are stand-alone and you can simply sit on your sofa, watch one and continue after a month without worrying about missing the parts of the plot. When it comes to the story, basically, a team of superheroes travels back in time to prevent bad things from altering the timeline, thus saving the future.
DC's Legends of Tomorrow is a part of the Arrowverse so the show crosses over with Arrow, The Flash, and Supergirl several times. The main reason why this show is on our list is the fact that it's relaxing to watch, witty, and overall entertaining. Caity Lotz, Amy Louis Pemberton, and Dominic Purcell are just some of the names that star in this show – the cast is full of superstars well-known to superhero fans.
5. Manifest [2018-2023]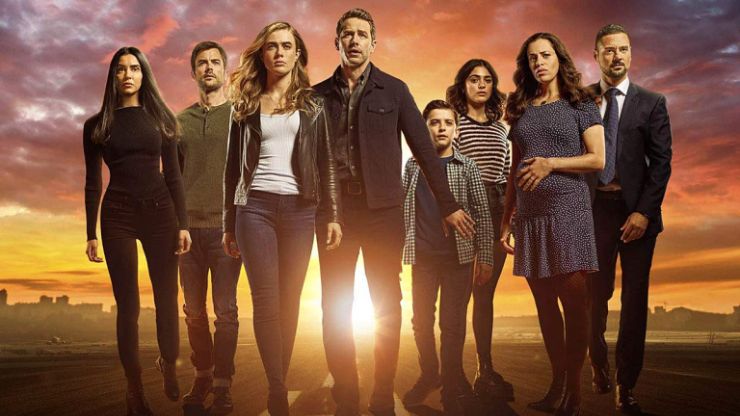 Photo credits: NBC/Netflix
The show was canceled after three seasons and picked up and renewed by Netflix for the fourth and final season. Manifest tells a story about Flight 828 which vanished into thin air and reappeared five and half years later. The problem is that the passengers have no idea what happened since from their perspective, they just went through a troublesome storm but landed on time, as planned. As they rejoin society, numerous problems arise, especially when some passengers start getting visions ("Callings") of future events.
The show has a strong "Leftovers" vibe to it, exploring the topic of how humans are unable to cope with things that they can't explain. Melissa Roxburgh (Michaela Stone) and John Dallas (Ben Stone) are the stars of the show and have received numerous praises for their performance in Manifest. This TV series is about time travel but also offers a lot more and tells a mysterious story that you will surely enjoy.
4. Dark [2017-2020]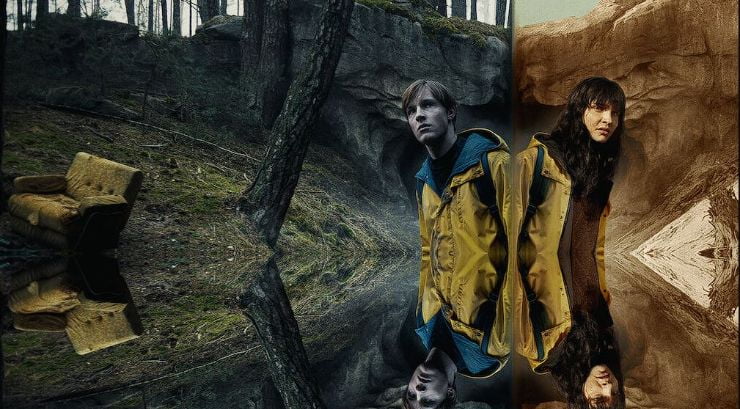 Photo credits: Netflix
Dark is the first Netflix German series. The show itself is difficult to place as it combines several genres, including sci-fiction, horror, mystery, drama, and thriller. While this combo might not work for some other shows, Dark is an exception – the show delivers magnificently although one might argue that it's a slow-burn in the beginning. Dark is one of the shows like Black Mirror in a suspenseful feeling that you get while watching it.
Dark starts in Winden, a small fictional German town in 2019. Children begin to disappear from the town so an investigation led by four families takes place. Throughout the three seasons of Dark, the truth will include multiple timelines, wormholes, conspiracies, and parallel worlds. We won't say any more since the whole point of the show is for the viewer to try to understand the events that took place (and when the events took place). The German cast is lead by Louis Hofmann, Karoline Eichhorn, and Lisa Vicari. This time-travel TV series received praise from both the audience and the critics and is a must-watch. 
3. Fringe [2008-2013]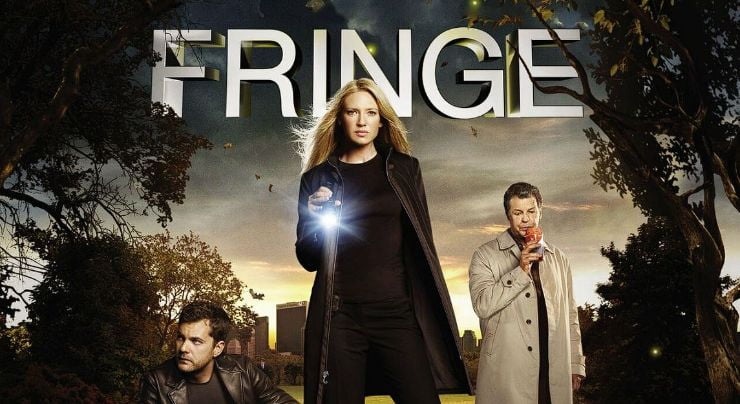 Photo credits: Fox
When it comes to TV shows about time travel, supernatural phenomena, parallel worlds, and doomsday events, Fringe is a must-see masterpiece. First of all, the show has that 2000's vibe to it which is sure to evoke memories from older viewers. Fringe is well-written and humorous and even a non-fiction fan will be able to enjoy it.
The cast is just astonishing: Anna Torv plays FBI Agent Olivia Dunham who leads Fringe Division. This division is kinda similar to "unsolved cases" that Molder and Scully used to investigate in X-files, although without (that many) aliens. Dr. Walter Bishop (John Noble) and his son Peter (Joshua Jackson) assist her in solving these cases. The show has many episodes that are stand-alone type but in the end, it wraps up nicely and tells a compelling story about father and son love filled with sci-fi elements.
2.

Travellers [2016-2018]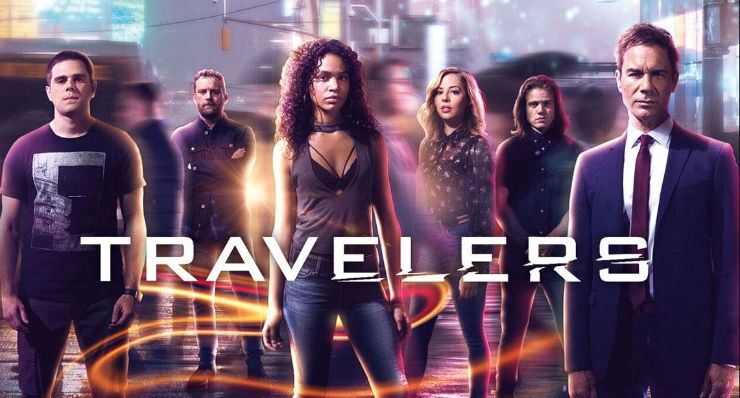 Photo credits: Netflix
Travelers have a unique story that widely differs from similar TV shows about time travel and that's one of the reasons why it's so high on our list. The basic premise of the show is that the future is ruined and people from it (Travelers) transfer their conciseness into humans that are about to die in the 21st century in order to alternate the timeline, following orders from an AI called "Director". Sounds wild, right? Well, it works pretty well –  Travelers are super fun and the characters are well-written and very diverse.
The cast is brilliant and is led by Eric McCormack (Grant MacLaren) and MacKenzie Porter (Marcy Warton). Another thing that puts this show at the top of our list is the fact that the sudden ending of season 3 really leaves a massive impact on a viewer. We must admit that a decision from Netflix to cancel Travelers after three seasons is baffling. Be it as it may, we are sure that you will enjoy this story and the ending will leave you breathless.
1. Doctor Who [1963-1989; 2005-present]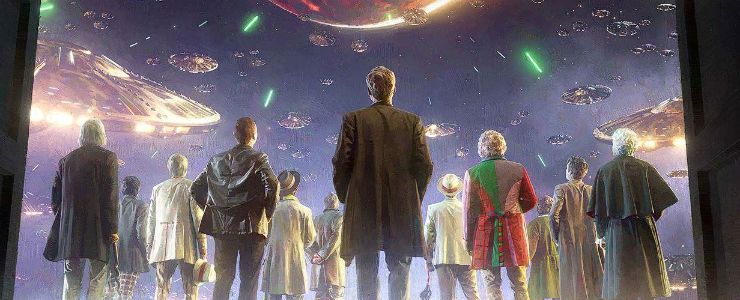 Photo credits: BBC
When a TV show has an actual Guinness record category of longest-running science fiction series, it is hard not to put it in the first place in our list. Doctor Who is a british sci-fi TV show about time travel and numerous other fictional motives and it has been on BBC since 1963. The show follows the adventures of a Time Lord (The Doctor), a being that appears to be human but explores the universe, combats foes and helps people in need using his time-traveling ship (TARDIS).
Since Doctor Who had over 850 episodes so far, we won't try to dig into the plot too much – it would require multiple articles just to cover it. The show gained so much popularity that it is considered a part of British culture and the fans call themselves "Whovians". We highly recommend that you give this show a try (or a rewatch) since Doctor Who is a classic among TV shows about time travel.