If you are a fan of Hearthstone Battlegrounds, you might have encountered a strange reward called "Spin the Wheel of Yogg-Saron". The Wheel of Yogg-Saron offers six various modifiers which we will be discussing today – especially because since patch 27.4, the Wheel is seen in Battlegrounds often due to an Anomaly that causes it to be triggered. Note that the effects of the Wheel are different in Hearthstone Battlegrounds compared to regular Hearthstone modes. It's a fun game mechanics so without further ado, let's see what the Wheel of Yogg-Saron does.
How to spin the Wheel of Yogg-Saron?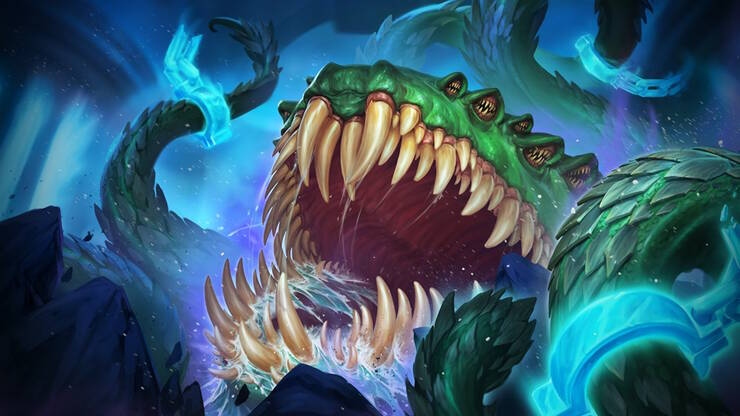 In the past, there were several ways to do it, but as of patch 27.4, it seems that for now, there are only two ways to trigger this Hearthstone Battlegrounds mechanics:
The Hearthstone Battlegrounds Anomaly called

Yogg-tastic Tasties

will trigger the Wheel of Yogg-Saron at the beginning of every turn for all players
Yogg-Saron Buddy,

Acolyte of Yogg-Saron

, will trigger it for a player once he is sold to the tavern
As Hearthstone Battlegrounds Buddies are no longer an integral part of the game, there are only a few ways to get the Acolyte of Yogg-Saron. One of them is by an anomaly called Bring in The Buddies that will put the Buddies back in the Tavern and, should you be lucky enough, you can buy it from there. Note that if this anomaly occurs, you don't actually have to be playing Yogg-Saron to get the Acolyte – the Buddies randomly appear in the Tavern.
The other way is through hero power – more specifically through the power of E.T.C. Band Manager. Related to that, Sir Finley Mrrgglton power also gives you a (small) chance of getting the Band Manager's power so there is that option as well. As you can see, this is not a very common thing to happen in HS Battlegrounds so we will keep things brief with this guide – let's check what rewards you can get when you spin the wheel
Wheel of Yogg-Saron Rewards in Battlegrounds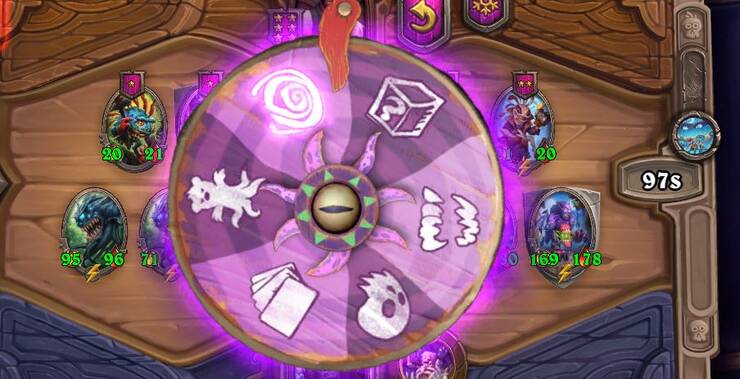 There are six potential outcomes for Wheel of Yogg-Saron. Five of them have 19% of being triggered, and as you can see on the printscreen above, the smallest one, the skull-like reward, has the remaining 5%. These are the 6 rewards of The Wheel of Yogg-Saron:
Curse of Flesh

(19%); Gives your Minions +3/+3, then randomly shuffle their stats.

Devouring Hunger

(19%); Consume all minions in the Tavern and refresh it
Hand of Faith (19%); Get 2 Random Darkmoon Prizes

Mindflayer Goggles

(19%); Gives Minions in the Tavern +3/+3 until the end of the game
Mystery Box (19%); Make a Random minion in Tavern golden

Rod of Roasting

(5%); Cast "Pyrobuff" randomly to give minions +4/+4 until one hits the hero or bartender
Now, let's take a moment to analyze these rewards. As you can see, some of them are pretty straightforward – such as Mystery Box (make a Random minion golden in Tavern). This can be useful but it's really susceptible to RNG as it's completely random. Hand of Faith is an interesting one and it can be powerful but only if you get it later on – Darkmoon prizes scale on various Tiers and the ones for the end-game are the strongest and game-changing ones. Mindflayer Goggles are particularly useful for Demon builds as they help out with devouring mechanics that Demons have. Devouring Hunger is pretty much just a one-time short buff but it has it's usages, especially later on.
On the other hand, the notorious Curse of Flesh, is really what it sounds like – a curse rather than a reward. Although a player does get +3/+3 on all Minions, the stats are scattered after the buff. This means that if you are running a Mech build, your Deflect-o-Bot might lose its stats as it gets transferred to another minion. The same thing goes for pretty much all kinds of Hearthstone Battlegrounds builds – a player gets in danger of losing the stats on their key minions as they are randomly shuffled. This is the reason why some players abstain from using the Wheel of Yogg-Saron.
Rod of Roasting is a whole different story – it is completely random and it gives your minions plenty of buffs or simply hits you or the bartender and gives nothing. So yeah, this is a fun one but not really reliable.
Closing Thoughts
As you can see, the Wheel of Yogg-Saron is an interesting game mechanic – but to be frank, not a particularly reliable one. That is the whole purpose of it – it's supposed to be fun and the rewards scale greatly depending on how lucky you are. Since that's the case, we will finish this article by saying: Good luck spinning the wheel, and may Yogg-Saron blessings be upon you!