Back in 2015, Until Dawn was released and it became an immediate hit. Up until today, it remains one of the best games in the interactive drama horror video game genre. Although games like Until Dawn are becoming increasingly popular, there aren't that out there. This is probably due to expenses; games like this are expensive because they need a brilliant writer with an unbelievably unique and interesting story; real-life actors (usually highly paid), and a whole film crew. Furthermore, after all that, everything needs to be converted into a playable video game. That being said, we see this as the future of the movie and video game entertainment industry. Since there aren't a lot of studios that produce games like these, we've come up with an ultimate list of 10 games like Until Dawn.
10. House of Ashes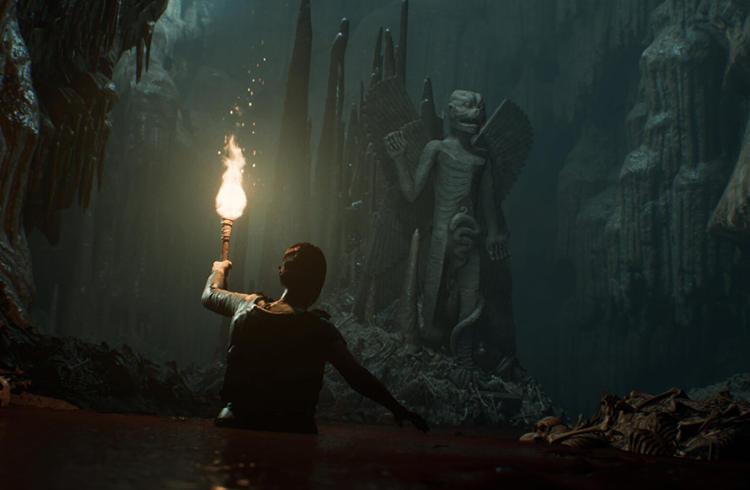 Image credits: Supermassive Games, House of Ashes
House of Ashes is part of The Dark Pictures Anthology series and follows a group of US Armed Forces after the invasion of Iraq in 2003. There is also an Iraqi Republican Guard with the US Armed Forces that falls into an underground Akkadian temple. Together, they must find a way out of the temple and fight ugly vampiric-bat-like creatures living underground. During the game, you'll have to make some wise decisions, but that's not the main reason for its popularity. The primary reason for its popularity is how stunning it looks and how Ashley Tisdale played one of the most convincing female protagonists of all time.
Multilinear narrative and almost identical gameplay like in other Until Dawn-like games don't bring anything new in that sense. House of Ashes, as we've mentioned, is even more aesthetically beautiful than The Quarry, and the acting team is strong, but the story overall feels somewhat hollow. There may have already been too many games in The Dark Pictures Anthology series that resemble this. The story had a good direction, but it felt somewhat like a poor horror movie trying to be deep. Finally, the game was criticized as being a ripoff of other games and movies, but all we can say is that it was inspired by movies like Predator, The Descent, and H.P. Lovecraft's book At the Mountains of Madness.
9. Life is Strange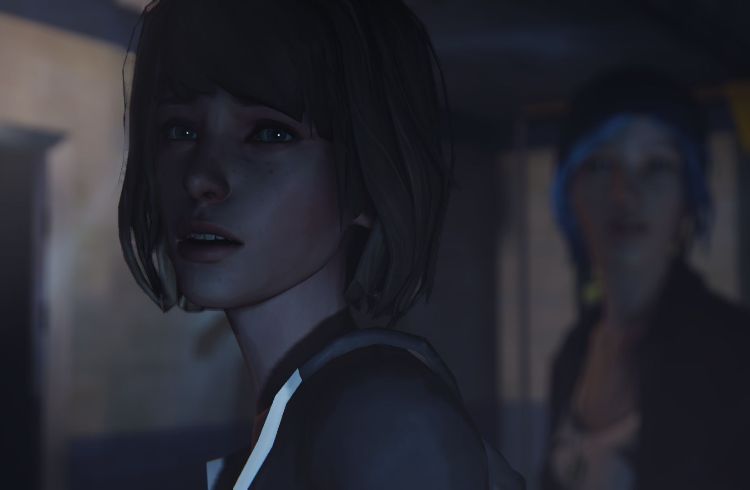 Image credits: Dontnod Entertainment, Life is Strange
Life is Strange was developed by Dontnod Entertainment and Deck Nine, and published by Square Enix in 2015. By definition, this is a narrative adventure game, but it has some horror elements, especially in the first game. As you probably know, there is a sequel, Life is Strange 2, but we'll focus on the first and the original game. Life is Strange follows Max Caulfield, a photography student who discovers she has the superpower to rewind time. Set in Arcadia Bay, a fictional town in Oregon, US, this game would rank higher on the list if it had more horror elements because it mostly focused on time-traveling.
On the other hand, in terms of writing, themes, and characters, it's almost as good as Until Dawn. In fact, Life is Strange is more similar to Quantic Dream games or any games developed by David Cage. It features excellent acting and one of the most emotionally gripping stories players can experience. Most importantly, Max and the other characters in this game, along with their lives and stories, are highly relatable. If you're a teen, this game is an immediate must-play, potentially life-changing. One of the topics touched upon in various ways is teen suicide, which adds a subtle sense of horror, at least for a part of the game.
8. The Devil in Me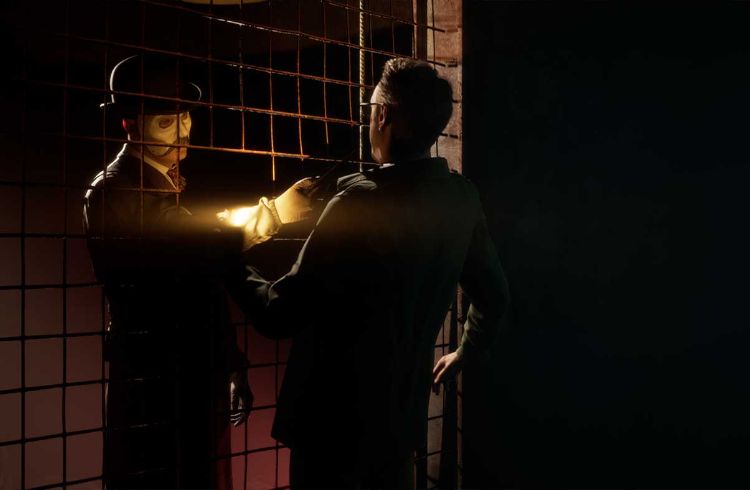 Image credits: Supermassive Games, The Devil in Me
The last installment in The Dark Pictures Anthology is The Devil in Me, released in 2022. This interactive drama and survival horror video game has some elements of slasher horror added to it, but the studio is still trying to recapture its glory from its best game, Until Dawn. This is the fourth and final game in the anthology's first season. We follow five playable characters who are part of a film crew as they try to shoot a documentary about a Murder Castle. Soon, they'll discover that there is actually a murderer lurking around and that the hotel is full of traps. The story was inspired by one of the first American serial killers and con artists, Dr. Henry Howard Holmes aka H. H. Holmes.
The game received mixed reviews, but if you're looking for games like Until Dawn, then don't skip this one or any made by Supermassive Games. If you're a fan of this genre, your best bet is Quantic Dream for something similar to Supermassive Games. However, when it comes to horror and survival elements, you can count on Telltale Games.
7. The Inpatient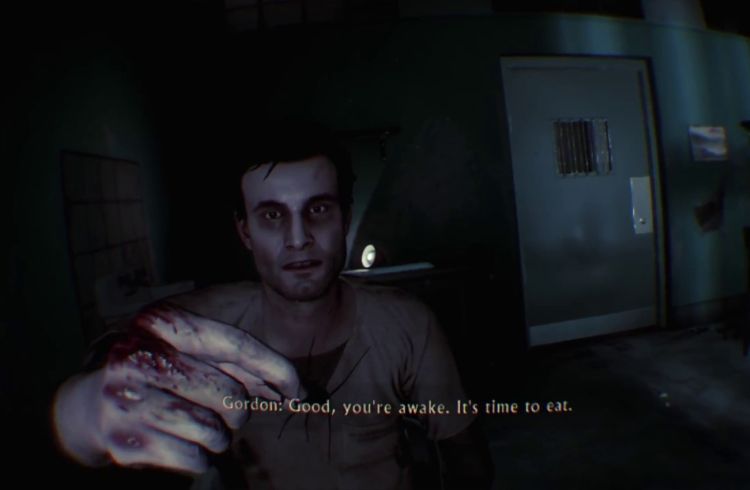 Image credits: Supermassive Games, The Inpatient
Developed by Supermassive Games, The Inpatient is a psychological horror game and a prequel to Until Dawn. It was released for VR, and the game is set in an abandoned Blackwood Sanatorium. If something describes the quote from the Scooby Doo gang, This place gives me the creeps, then it's Blackwood Sanatorium. Set in 1952, 63 years before Until Dawn, the story follows a patient called Alex. At the end of the game, players will be revealed more details about Until Dawn, providing more in-depth knowledge about the overall story. If you're a true fan of Until Dawn, get a VR headset and start creeping around the Sanatorium.
VR in gaming is still in the experimental phase, and The Inpatient gave us a reason to believe that this phase was coming to an end. This prophecy isn't fully fulfilled in my own opinion, but I hope that by 2030, VR will become a standard practice in gaming. The Inpatient has a great story with a lot of potential, but the controls in VR are clunky. VR does perform well in terms of tension and improving horror elements. The game does feel scarier, and VR is better at making anything, especially horror, more realistic.
6. Fahrenheit aka Indigo Prophecy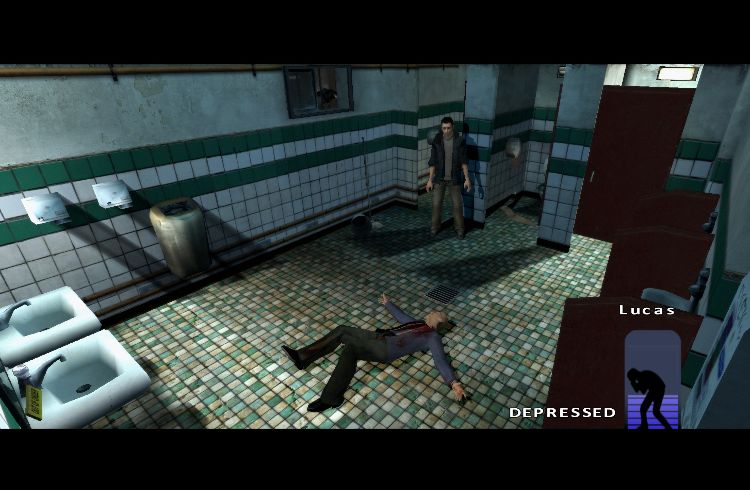 Image credits: Quantic Dream, Fahrenheit
9 out of 10 games like Until Dawn were released after 2010; only Fahrenheit or Indigo Prophecy was released back in 2005. This game follows Lucas Kane, who committed murder while driven by an unknown force. During the game, you'll also take control of other characters like two detectives who are trying to solve the crimes. Indigo Prophecy was one of the first games that offered more than one ending at the time and was entirely story-driven. What makes it similar to games like Until Dawn is its chilling atmosphere, especially in the cutscenes with an Aztec priest, as well as the presence of Nietzschean themes and references to the book Thus Spoke Zarathustra.
The game was developed by Quantic Dream and published by Atari. The studio Quantic Dream, with David Cage as the founder and main game developer, doesn't produce a lot of games, but when they do, they're considered to be masterpieces. Some of their most iconic games include Heavy Rain and Detroit: Become Human. Fahrenheit had some issues with controls as they were clunky and from time to time frustrating. Additionally, the pace of the story varies at times, sometimes being slow while at other times faster than the speed of light—especially in sections where you need to use hotkeys.
5. Little Hope

Image credits: Supermassive Games, Little Hope
Little Hope is perhaps the finest psychological horror game developed by Supermassive Games. The story is meticulously crafted, and its characters feel more authentic, enhancing the overall narrative. The game is named after the town a bus driver must navigate due to a detour caused by a crash on his usual route. Reluctantly, he proceeds through Little Hope. Spotting a young girl on the road, he swerves and crashes, stranding a group of people in this eerie town. As you uncover the town's secrets, the story delves into darker and grimmer territory, revealing the true nature of its characters and the events that transpired.
The game's ending boasts a remarkable twist, a testament to the brilliant storytelling. Released in 2020, it didn't receive the attention it deserved, in my opinion, possibly due to the pandemic and other concurrent events overshadowing it. Some critics accused the game of borrowing elements from Silent Hill and similar titles centered around enigmatic towns and past traumas. While the game's tone differs from Silent Hill, it draws clear inspiration from the Salem Witch Trials. Moreover, the game incorporates references and inspiration from movies like The Blair Witch Project, The Omen, and The Witch.
4. Heavy Rain

Image credits: Quantic Dream, Heavy Rain
The game that catapulted Quantic Dream to prominence was Heavy Rain. The narrative revolves around four protagonists: Ethan Mars, a devoted father in search of his missing son; Scott Shelby, a private investigator; Norman Jayden, an FBI profiler; Madison Paige, a journalist haunted by nightmares and insomnia. Players take the roles of these characters as they work together to catch the Origami Killer, who uses heavy rainfall to drown victims. Similar to Until Dawn, quick reflexes are essential as players engage in constant interaction. The storyline's outcome is heavily influenced by players' decisions.
Upon release, some critics categorized the game not as a video game, but as a movie masquerading as one. In my humble opinion, Heavy Rain is the game that popularized this genre and made some real improvements when compared to a previous Quantic Dream game Fahrenheit. As with Detroit: Become Human and other titles, the story was written by David Cage. What distinguishes Quantic Dream games from the rest is their exceptional music and incredible attention to detail.
3. The Walking Dead: The Telltale Games Series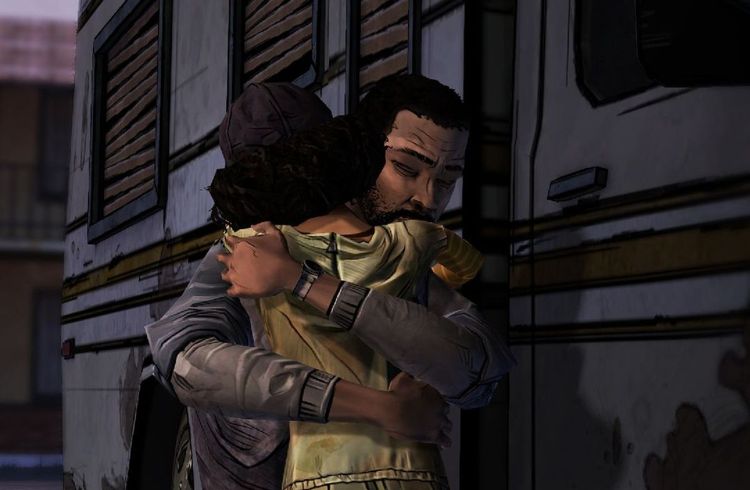 Image credits: Telltale, The Walking Dead
The Walking Dead is a 2012 episodic graphic adventure horror drama game. It was inspired by a TV show which is based on the comic book series of the same name by Robert Kirkman. The story and the first season follow Lee Everett, a college professor, and convicted murderer, and a girl called Clementine. Just like other games on the list, this one revolves around exploring the post-apocalyptic world and trying to survive. Lee and later Clementine in the second season will have to make some of the hardest decisions as they're fighting through hordes of Walkers (Zombies). During this game, you can experience horror in a different and more empty world that lacks at least more empathy. If you liked Until Dawn, this will be a great challenge with an amazing story and memorable characters.
This is probably the best-known game made by Telltale Games, which unfortunately closed due to bankruptcy in 2018. The studio had some financial problems since the licensing was quite expensive for The Walking Dead, Game of Thrones, and Batman. Overall, the studio had great ambitions but with fewer people working and a tight schedule, they hit a wall at a certain point. The Telltale studio made games like Until Dawn but with a smaller budget. Gameplays are similar, but Telltale games were more in a graphical comic book style while Supermassive games tend to be more realistic and driven by real people and real locations.
2. Man of Medan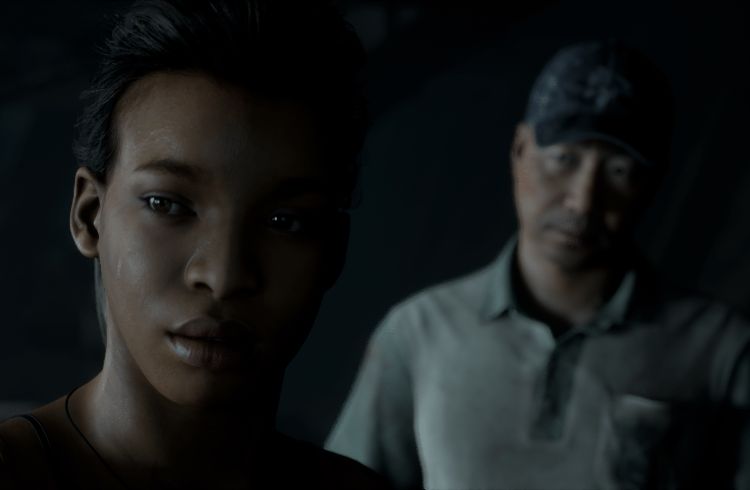 Image credits: Supermassive Games, Man of Medan
Back in 2019, Man of Medan was the first installment in The Dark Pictures Anthology series. The game follows a group of friends as they set out on a diving trip in the South Pacific Ocean. They're led by Alex alongside Julia, Brad, Fliss, and Conrad. As usual, they're enjoying diving and drinking beer in the middle of the ocean up until they're kidnapped by fishermen. Fishermen led by a mysterious man called Olson force them to board a creepy and abandoned ship, SS Ourang Medan. That's when the game really kicks off and when the scariest part of the game is. Just like in Until Dawn, we follow the group of young adults getting themselves in some creepy 90's movie scenario.
Now, this would have been ranked higher, but the game was too predictable at some points, at least for me. Other than that, the characters could've been developed a bit better as the game was in general shorter. It takes about three and a half hours to beat Man of Medan vs almost six hours to beat Until Dawn. We hope that Supermassive Studios will listen to the voices of critics and their fans so they'll make newer games longer, just like The Devil in Me.
1. The Quarry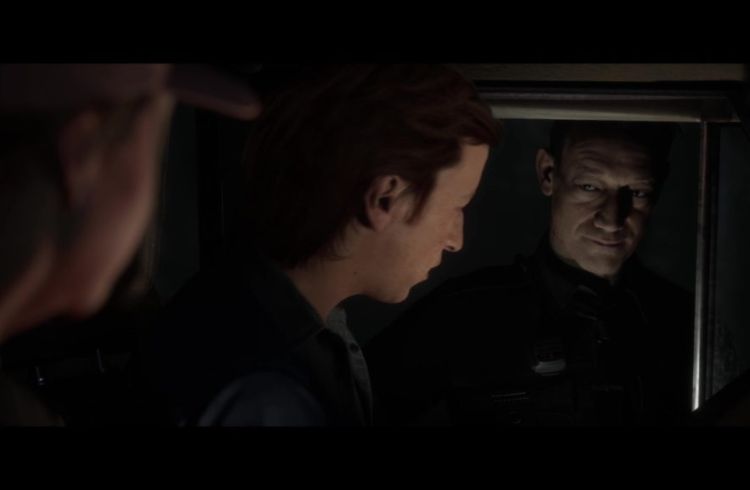 Image credits: Supermassive Games, The Quarry
Definitely the best game that came after Until Dawn and the one that deserves "the sequel title" is The Quarry. Supermassive Games made a lot of games after Until Dawn but they couldn't beat Until Dawn. What this game has, unlike others, is the good old formula; the Virgin, the Scholar, the Athlete, the Lady of the Night, and the Fool or some variation of these characters. This was a formula for almost all 90s and 2000s horror movies. Other than that, the werewolf plot and the whole story with lots of memorable characters was just something else.
When it comes to gameplay, just like all other games from the list, it is really similar to other games and it's nothing unique. As we've already told, when it comes to these types of games, the story is the most important part. Acting does its job, but just as with other Supermassive games, it can't fix the bad writing, just like graphics can't fix a bad FPS or RPG game. All in all, with this game, we'll conclude our ultimate top 10 games like Until Dawn.