Greetings to all Warcraft Rumble fans, we hope you have been enjoying the game. If you are just starting and stumbled upon this article, we advise you to check out our in-depth Warcraft Rumble beginner guide for rapid advancement in the game as well as our list of best minis and leaders. Before we get into our list of mobile games like Warcraft Rumble, let's see what exactly are we looking for. As we know, Warcraft Rumble is an RTS, collectible, tower-defense, auto battler mobile game set in Warcraft Universe. This is what we will focus our list on – we will try to find mobile games that match this description at least in one of the categories. Without further ado, let's see those games like Warcraft Rumble.
Clash of Clans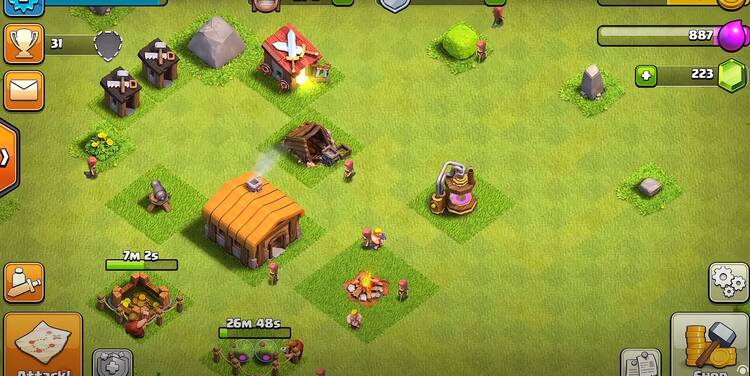 Image Credits: Supercell
Clash of Clans is our first game similar to Warcraft Rumble. In essence, this is a mobile RTS game revolving around PVP mostly (clashing of clans, right?). The beginning of the game is pretty usual – you get a basic set of the base which you can build upon. Everything costs resources (or money) and time to build and/or upgrade. Army building is fun as well but the main downside is the fact that you can't control the army in real-time – similar to Warcraft Rumble.
Once your army deploys, AI will take care of the rest. That being said, watching what went right and what went wrong is the essence of this mobile game. Strategic planning, resource allocation, and time management are of the utmost importance. All in all, Clash of Clans is a fun mobile game similar to Warcraft Rumble that is worth a try.
Tower Conquest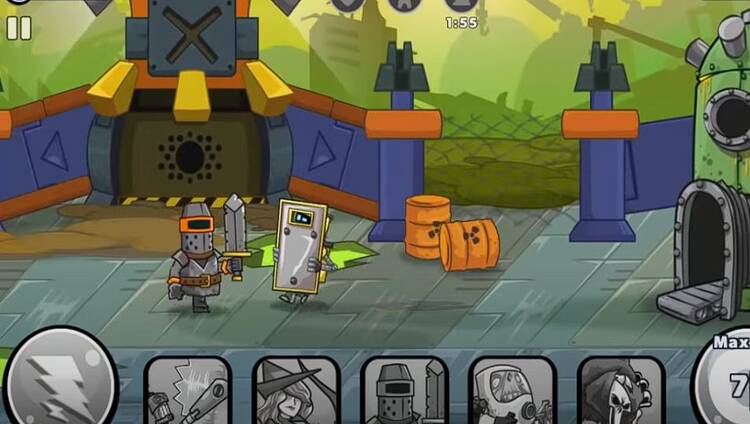 Image Credits: Titan Mobile LLC
Available for iOS and Android devices, Tower Conquest is, as the name suggests, a tower-defense type of game. The game is done in 2D style and players are offered various factions (with different units (cards) that become available by leveling or purchasing for money. Tower Conquest is all about building up defenses and tackling waves of enemies – something that we have seen many times in tower-defense-type games.
Although simple, the great thing about this game is the fact that you can tailor-build your defenses due to the fact that units act like collectible cards, something that's seen in Warcraft Rumble as well. There is also a PVP option available to all who dare to enter the contest, and our advice is to try out this game and see how it works for you.
Clash Royale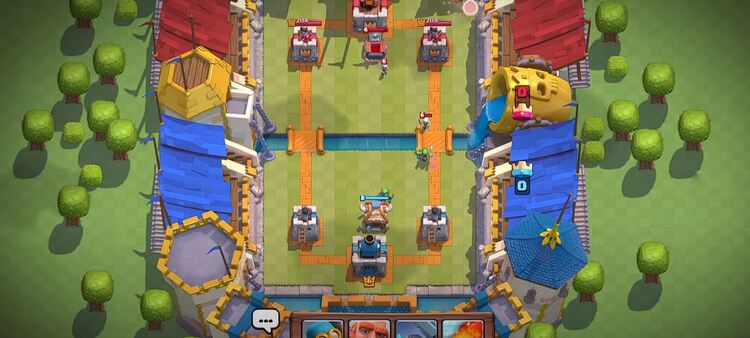 Image Credits: Supercell
Probably one of the most famous hybrids that combines collectible cards and tower defense strategies is Clash Royale. Developed by Supercell, the same studio that made Clash of Clans, this game really stands out due to the many mechanics that it offers. It's multiplayer, it's tower defense, it's collectible, it's MOBA and it's so much more – a truly unique experience and a titan when it comes to mobile games.
At its core, the game is about PvP – very similar to PVP in Warcraft Rumble. Players clash in a 3-minute match in which they try to destroy the opponent's towers, earning crowns by doing so. The player with the most crowns wins the match. The game is not just about spamming the strongest cards as there is a limit to cards that are available to players – Clash Royale is all about tactics and planning.
Marvel Snap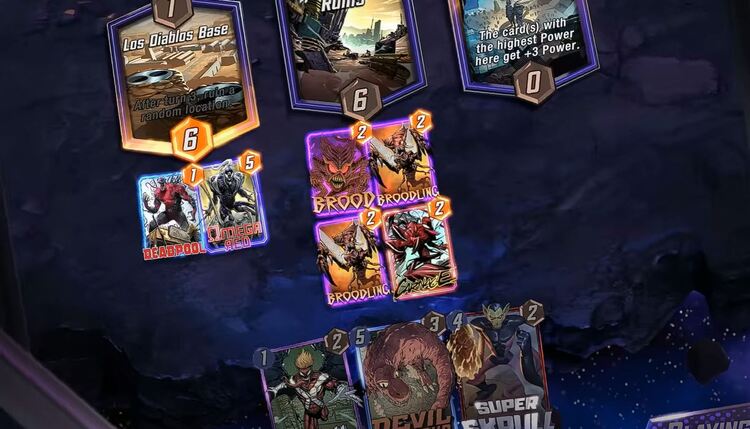 Image Credits: Nuverse
Marvel Snap is one of the most popular mobile games at the moment. There is a good reason for that – Marvel Snap took all the good game-play elements from Magic the Gathering and Hearthstone and added a quicker game style as well as more art. The game looks fairly simple: you get cards that you use to build decks and battle opponents in 1 on 1 matches that last a couple of minutes earning boosters and other resources that are used to get more cards (and card variants).
However, as a player progresses to the game, it gets more difficult since deck building requires a lot of planning and knowledge of opponents' deck archetypes. The fact that it's so easy to get started and so tricky to endgame is what makes it so popular nowadays. If you haven't still tried the game, you can check out our Marvel Snap beginner guide and give it a shot. Happy Snapping!
Spellbinders

Image Credits: Kiloo
We are positive that if you enjoyed Warcraft Rumble and/or Clash Royale, Spellbinders will be great for you. The game is like a simple version of Clash Royale, without the collectible elements to it. It's essentially a PvP game in which players clash, trying to destroy their opponent's base first.
The battlefield is broken into three lanes. Spells, ranging from firebolts to speed bursts allow strategic planning. The orb system is very similar to Power in Marvel Snap – two units clash and whoever has more Orbs wins. That is the case unless you use a spell to boost units' orbs. Spells are randomly given and players start with four each; each spell requires mana to use so caution is advised. All in all, Spellbinders is a game like Warcraft Rumble due to the fact that it requires a certain level of strategic planning and is an RTS mobile game.
Brawl Stars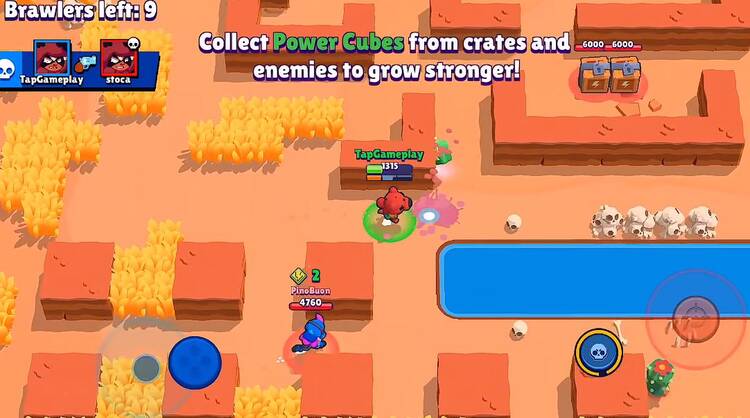 Image Credits: Supercell
Another game that comes from Supercell is Brawl Stars. Although this mobile 3v3 MOBA is more popular with the younger population, even if you are a boomer as the writer of this article, you will still enjoy it. Brawl Stars is widely popular due to its various game mods, including 3v3 battles and a battle royale mode. The short match durations (2.5 minutes at most) make it suitable for quick, casual gaming sessions.
Besides that, it's (almost) completely free to play so that's a plus for most players as well. You can upgrade and advance through the game without feeling the pressure to make an in-game purchase, something that is becoming rare nowadays. All in all, Brawl Stars is a must-try when it comes to games similar to Warcraft Rumble.
Hearthstone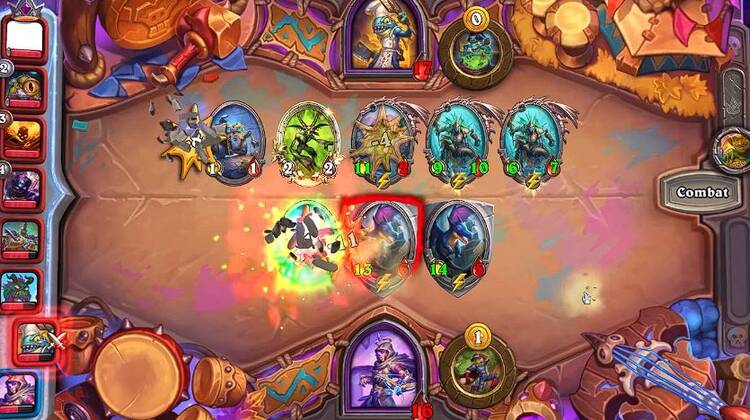 Image Credits: Blizzard
We are sure that you have heard about Hearthstone over the past few years. It's one of the most popular card games and what makes it particularly interesting for our list, is that similar to Warcraft Rumble, Hearthstone is also based on Warcraft Lore. Besides the regular Hearthstone, you can check out Hearthstone Battlegrounds, a mod in which no deck building is required and that you can start playing as soon as you download the game.
Collectible cards, deck building, strategizing, and making tactics are what make Hearthstone a great game. The constant patching and updating keeps the game fresh and you will surely have a blast exploring this world.