There are too many fantasy romance movie lists that are written by people who don't know what they're writing about. Fantasy Warden wants to put an end to this and make one list to rule them all, one list to find them all, and one list to bind them. It's time to once and for all create the ultimate top 10 must-watch fantasy romance movies of all time. A little disclaimer, we're writing about movies played by actors, not animes or cartoons.
10. 13 Going On 30 [2004]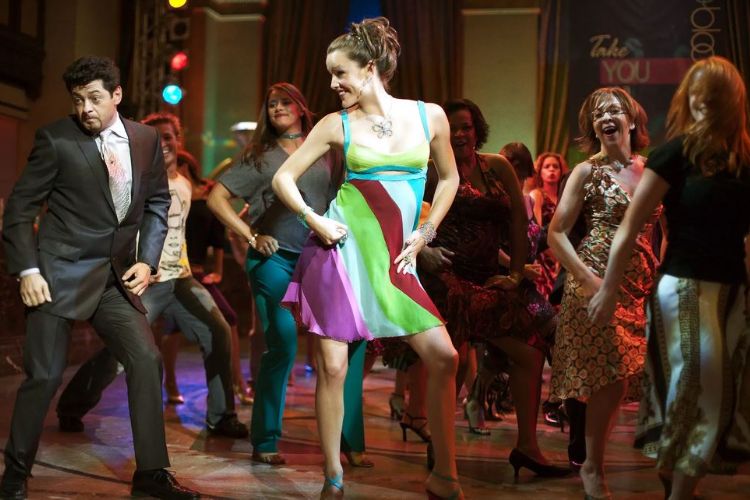 Photo Credits: Sony Pictures
We wanted to start a list with a classical romantic comedy with a fantasy element added to it. The story is about a girl who lives in 1987 and she isn't a part of the cool kids gang, so she wants to impress them. In return, she gets humiliated by them, and she wishes that she was 30 years older. For her birthday, she gets magical dust, and she makes a wish that she's 30 years older, so tomorrow she wakes up in 2004. She isn't just popular, but she is a successful fashion editor for her favorite magazine Poise. The jokes are goofy as we can see how the mind of a 13-year-old would think and make decisions in the body of a 30-year-old.
The movie wasn't for the Oscar, but it was nominated for MTV Movie Awards and the Teen Choice Awards. Jenna Rink, a 13-year-old, is played by Jennifer Garner, after the transformations, and she did a good job when it comes to acting and dancing. Overall, the story is simple, but it has some nostalgia added to it for both the '80s and late '90s, and early 2000s. Unlike other fantasy romance movies, this one is quite childish and cheesy at some points. A fun fact is that it was the most rented movie in 2004 if anyone knows what renting movies was anymore.
9. Meet Joe Black [1998]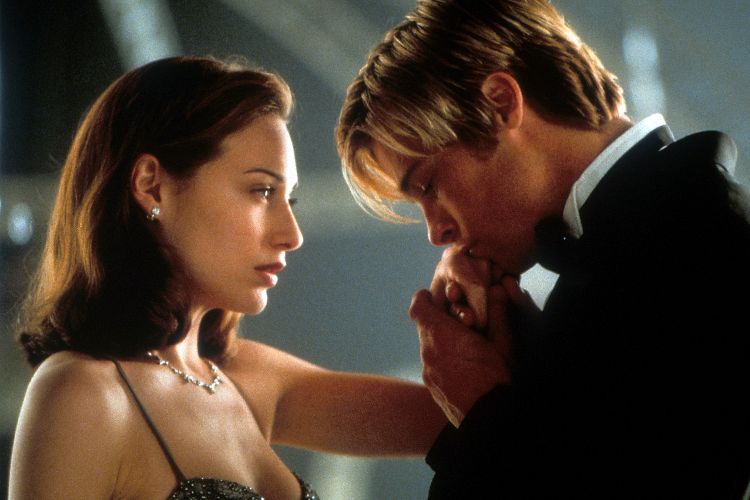 Photo Credits: Universal Pictures
No wonder Meet Joe Black is on the list since it features Brad Pitt and Anthony Hopkins as main characters. What makes this movie different than others on the list is the style and fashion in which it was made. Brad Pitt is playing Death who takes on a human form named Joe Black to experience life on Earth. Since Joe Black is confused by life on earth, he seeks guidance from William Parrish, a media mogul who is played by Anthony Hopkins. Eventually, Joe Black falls in love with Susan Parrish played by Claire Forlani, who is William Parish's daughter. After that, it's all love, death, the meaning of life, and other fantasies.
Fantasy romance movies like these are not made in such a fashion anymore. This movie was loosely based on another movie called Death Takes a Holiday from 1934, which is based on La Morte in Vacanza, an opera by Alberto Casella. The story is unique in its way and it opens a lot of philosophical questions, so it'll keep you thinking while you're watching the movie. I always get goosebumps when I remember the chemistry between Claire Forlani and Brad Pitt.
8. Passengers [2016]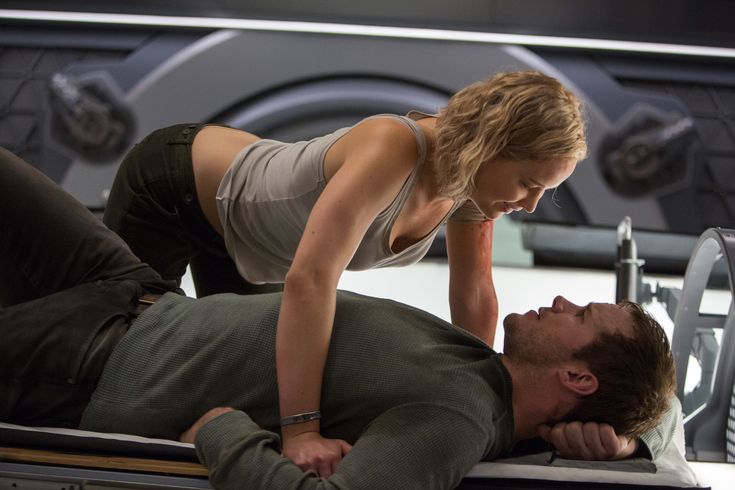 Photo Credits: Columbia Pictures
A movie in which Jennifer Lawrence and Chris Pratt are stuck together on an interstellar journey can't be skipped on our list of best fantasy romance movies of all time. That's exactly what Passengers are all about – and we won't get into plot details as we don't want to spoil the movie for you. I will just say that besides stunning visuals, the two leads performed marvelously, and although the movie has 7/10 on IMBD, it is truly one of the best ones that came out in the previous decade.
I might be biased but this movie is probably the greatest one when it comes to combining sci-fi and romance genres – the story is simple but engaging and you get to feel the loneliness that vast emptiness of space causes. Get your tissues ready for the movie ending – that's all I will say about it.
7. About Time [2013]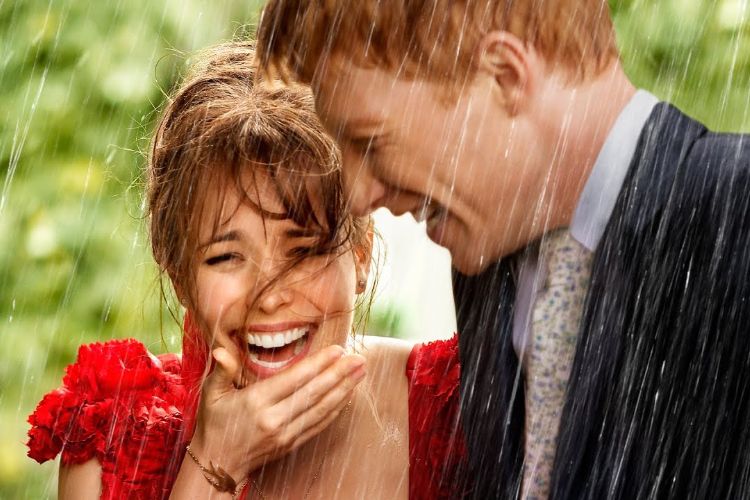 Photo Credits: Universal Pictures
Imagine if you could improve your love life by time-traveling; well, it's About Time to do that. That's basically what the film is about. It's about a guy, Tim Lake, played by Domhnall Gleeson, who learns that all men in his family have time-traveling powers. He moves to London where he meets Mary, played by Rachel McAdams, and he uses his powers to make every moment count. Most critics would agree that this is something like Groundhog Day, and yeah, it reminds us in some aspects. The movie was directed and written by Richard Curtis, who is known for romantic comedy movies, so you won't be disappointed.
Unlike some other movies from the list, this one didn't get any awards, but it doesn't mean that it's not a good movie. Out of all the fantasy romance movies of all time on this list, this one is probably the most romantic one. It's more like a romance movie with elements of fantasy, but time travel is the most important element in the story. If you're about to have a date, watch it, or why the hell not, ask your date to watch it together. Don't be fooled by the romance and fantasy since this movie has some great comedy elements in it too, so it's a perfect match.
6. Scott Pilgrim vs. the World [2010]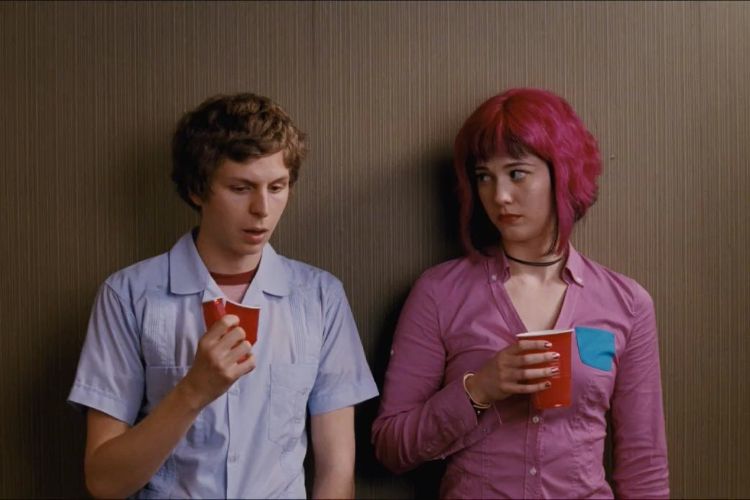 Photo Credits: Universal Pictures
Probably the best out of all fantasy romance movies that true geeks and comic book lovers would adore is Scott Pilgrim vs. the World. The movie was directed by Edgar Wright, and Scott Pilgrim was Michael Cera, a bass guitarist from Toronto. He falls in love with Ramona Flowers, played by Mary Elizabeth Winstead, but there's a catch. Scott Pilgrim must beat her seven evil exes in anime epic video game-style battles. Scott Pilgrim vs. the World. The movie is fast-paced, and there are plenty of quotes and references to modern video games, pop culture, and other things from the 2000s.
The movie is specific but it's still because at the time geek culture wasn't so widespread. Maybe back in 2010 when comic book movies were just starting to take off, this movie couldn't be understood. Now when Disney Marvel and DC have taken over cinemas it's a whole other story. If you ever enjoyed fantasy, sci-fi, music, anime, or video games with a touch of romance, give this one a chance. If you're a fan of adult animation or Japanese anime, we have good news for you: Scott Pilgrim The Anime is coming out on Netflix. This movie and anime are based on a graphic novel series Scott Pilgrim by Bryan Lee O'Malley.
5. Palm Springs [2020]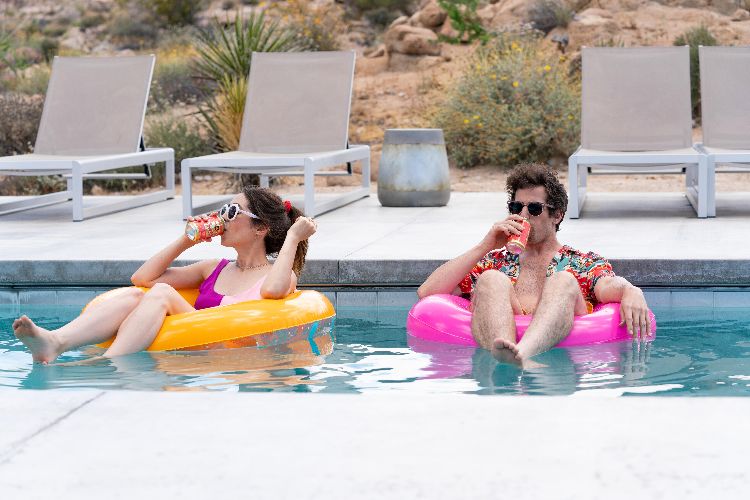 Photo Credits: Hulu
2020 was a tough year with the virus, and lockdowns as the world stood in fear of extinction. There's always a light at the end of the tunnel and that was definitely Palm Springs; or at least for fantasy romance fans. The movie is about a couple, Nyles played by Andy Samberg, and Sarah played by Cristin Milioti, who are trapped in a time loop during a wedding in Palm Springs. This is more or less some sort of a Groundhog Day movie but with a more romantic approach. Since the couple is using this day to explore all of the possibilities with one another and thus form a unique relationship.
They aren't both trapped in this loop together, but Nyles eventually draws Sarah into it. They're dealing with a lot throughout the movie with some quite comical situations. This is a movie that hit the time as no other since the whole year of 2020 felt like this movie or Groundhog Day. This would fit it more into a sci-fi rom-com genre, and if you're feeling like you miss the Groundhog, give Palm Springs a chance. The movie was directed by Max Barbakow, and the story was written by Andy Siara and Max Barbakow. The movie was released on Hulu.
4. Stardust [2007]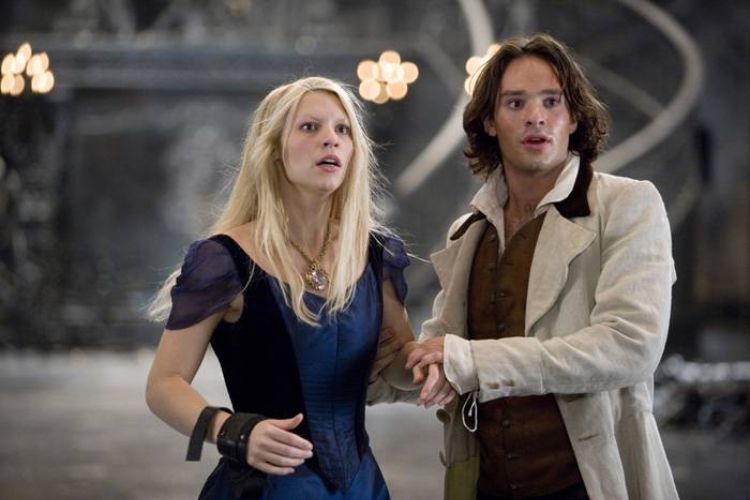 Photo Credits: Paramount Pictures
This fantasy movie, Stardust, is maybe the finest blend of romance and fantasy in a movie ever since The Princess Bride. We follow the story of Tristan Thorn, played by Charlie Cox, as he and his beloved Victoria, played by Sienna Miller, witness a star falling down. In return, Victoria will give Tristan her hand and marry him. As he goes on a quest, Tristan quickly finds out that the star is actually not a rock but an enchanted woman, Yvaine, played by Claire Danes. Tristan must get Yvaine back to Victoria before her birthday as that's the deadline for her marriage offer. Now that's when the party starts when pirates, witches, and other magical creatures are looking for the same Star that fell from the sky.
Stardust was directed by Matthew Vaughn, and the screenplay was done by Jane Goldman and Matthew Vaughn; it was based on a story of the same name written by Neil Gaiman and Charles Vess. Matthew Vaughn produced movies such as the Kingsmen series, X-men: First Class, Kickass, and many others. Stardust got 1 award back in 2008 for Hugo Award for Best Dramatic Presentation, Long Form. This movie features so many famous actors, including Robert De Niro, Peter O'Toole, and Michelle Pfeiffer. It is narrated by nobody else than Ian McKellen, for those of you who don't know Gandalf the Gray from The Lord of the Rings and The Hobbit.
3. The Princess Bride [1987]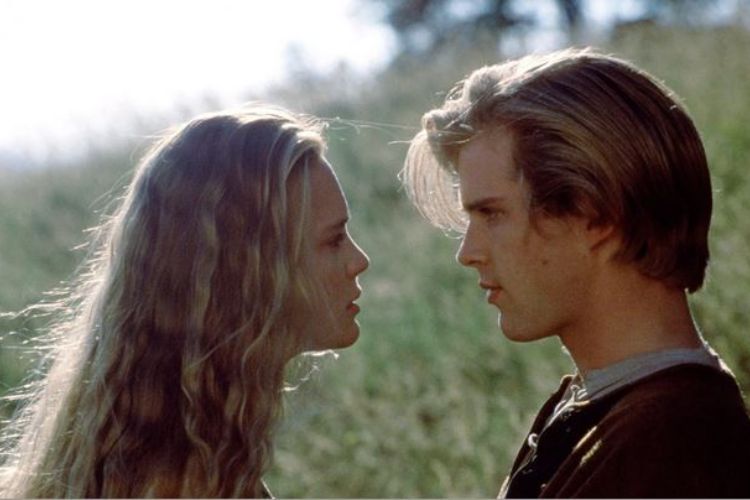 Photo Credits: Interaccess Film Distribution
According to many reviews, this movie is always within the top 5 of must-watch fantasy romance movies of all time. The reason for it is simple, and that's pure love towards romance and fantasy in a good old-fashioned way. The movie didn't win any Oscars, but it remained a classic up until today. The movie is told through a fairy tale being read to a young boy, played by Fred Savage, by his grandfather, played by Peter Falk. The story is about the love of Princess Buttercup, played by Robin Wright, and her true love Westley, played by Cary Elwes. The story features some classical fantasy themes like pirates, setting sails, kidnapping, as well as marrying the wrong man.
The movie was adapted from William Goldman's novel of the same name from 1973. The Princess Bride was directed by Rob Reiner, and it features some of the most memorable quotes such as "Life is pain, Highness. Anyone who says differently is selling something" and "My name is Inigo Montoya. You killed my father. Prepare to die." Many of the jokes and quotes from this movie were later exploited in pop culture, including other movies, comics, video games, and music.
2. Shape of Water [2017]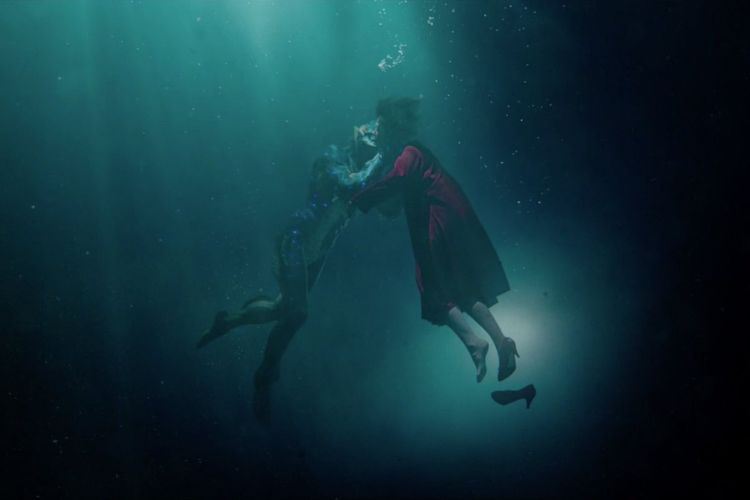 Photo Credits: Fox Searchlight Pictures
When I saw the first trailer for this movie, I thought that it was going to exclude most elements of fantasy, but in the end, it was one of the best sci-fi fantasy movies of the year. Respectfully, it was work done by Guillermo Del Toro, so no wonder that it was so good that it even won an Oscar. The movie itself is a classical love story told in an unusual way and between creatures; one is a regular cleaning lady and the other is an aquatic creature similar to Abraham "Abe" Sapien from Hellboy (also Del Toro's work). The time and setting are just right as it's in the 1960s during the Cold War. The protagonist Elisa, played by Sally Hawkins, deserved an Oscar as she played the brave but mute lady; she also did a good job in 2014's and 2019's Godzilla.
This one is a sci-fi fantasy, but it still made a huge impact on the genre. This was back in 2017, a shock since it's the first type of "these" movie that was nominated. So things got even worse, the movie won the Best Picture award and it beat Get Out, Lady Bird, and Three Billboards Outside Ebbing, Missouri. This was a small step for the director Guillermo del Toro but a huge leap for the fantasy and sci-fi genre. Del Toro left us here with a manual on how to make sci-fi or fantasy movies more appealing to the masses. The story is simple and beautiful, the characters are memorable, and that's what a masterpiece is – a simple story full of emotions acted out in the most natural way possible.
1. The Curious Case of Benjamin Button [2008]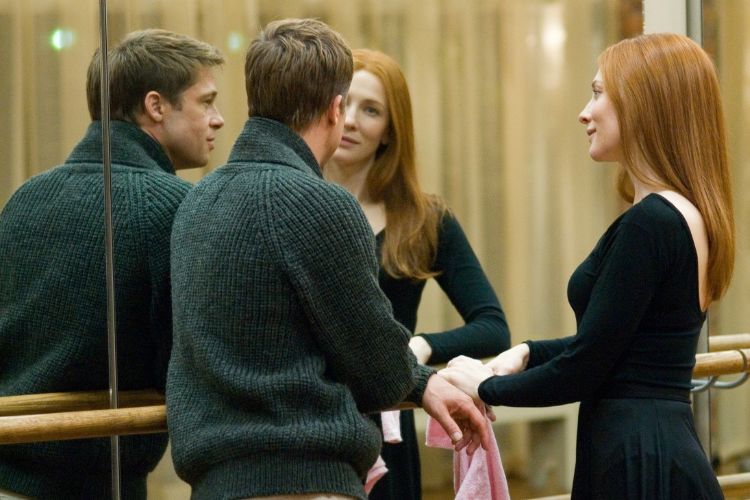 Photo Credits: Warner Bros. Pictures
Finally, the first one and the best one, in my opinion, is The Curious Case of Benjamin Button. Since I'm not a professional critic or anything, the movie has a high Metascore and IMDb score if you're a fan of open review websites. Let's break the story first. The Curious Case of Benjamin Button is about a man who is born with a strange disease; he was born old, and as time goes on, he is becoming younger. Imagine being born at 80 years old and you'll die as a baby; sounds strange, but trust us with this one. This is the perfect story of both fantasies in the real world, with some problems like love, beauty, and most importantly, time.
The movie didn't just perform well on IMDb and review websites; The Curious Case of Benjamin Button won 3 Oscars: Best Art Direction, Best Makeup and Hairstyling, and Best Visual Effects. It's a pity that it didn't win any for the best actor, but oh well, it's still the best fantasy romance movie up to this day, by many standards and according to many lists. Overall, the movie has something in it that makes it rewatchable, in this streaming and binging world that we've built.