Strategic Coordination Center is another massive multi-stage Stellaris Megastructure that you can go for if you need a military boost. This megastructure is pricy but it does yield outstanding benefits in terms of increased sublight speed, Starbase and naval capacity. Strategic Coordination Center can be filled with defensive platforms should you need to defend its position thus turning it into a mega fortress. Note that you can only build it if you have Megacorp Stellaris DLC. We will discuss the technological requirements, building phases, cost, potential benefits that it offers, as well as how it measures with other megastructures. Without further ado, let's see what Stellaris Strategic Coordination Center is all about.
Technologies Required for Strategic Coordination Center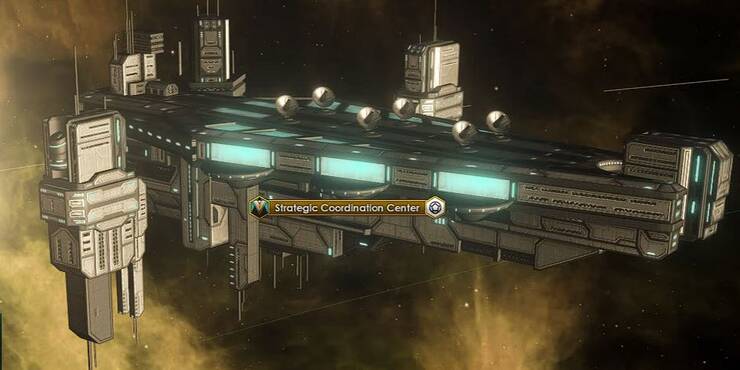 Image Credits: Paradox Interactive, Stellaris
Ok so good news first – you don't have to get Galactic Wonders Ascension Perk in order to build Strategic Coordination Center. You only need a rare tier 5 tech called Mega-Engineering and you will be able to roll for the desired "Strategic Coordination Center" technology needed for its build. So, just keep building Citadels and Starbases in order to increase your chances of getting Mega-Enginering.
However, that's about where the good news end – after you gain Mega-Engineering, you will still need to roll for the desired Strategic Coordination Center tech. You can increase your chances by taking some of the Ascension Perks: Galactic Wonders and/or Master Builders and Eternal Vigilance. If you are opting for a Ring World, Matter Decompressor, or Dyson Sphere as your next Megastructure you should take Galactic Wonders. If not, take Master Builders or Eternal Vigilance and hope for the best. The tech should roll soon enough but you know, it's always a game of numbers with rare technologies in Stellaris.
Building Phases and Cost Breakdown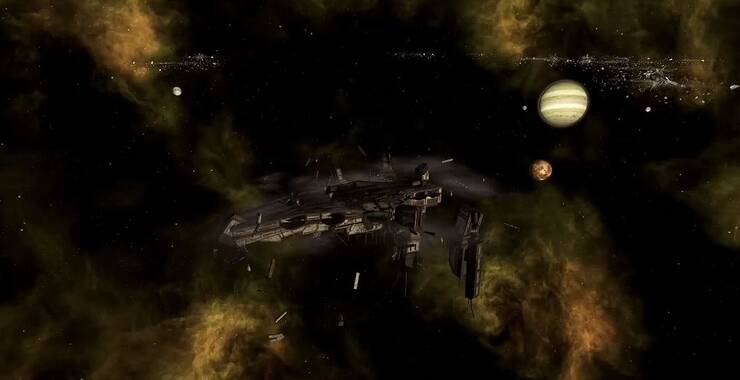 Image Credits: Paradox Interactive, Stellaris
First things first – as most of the megastructures, Strategic Coordination Center can only be built in a surveyed system in your empire, around an uninhabited world. As you might assume, the price for a multi-phase megastructure with all these perks will be rather high: 10 000 Unity and 50 000 Alloys is the total sum if you wish to build it from scratch and fully upgrade it.
Keep in mind that you can always restore a Ruined Strategic Coordination Center should you have any of those in your empire. That's the only way in which you can have two Centers. If you wish to build Strategic Coordination Center from scratch, there are 4 phases to go through:
Phase 1:

Strategic Coordination Center Site

(2500 Unity, 5000 Alloys); Effect: none
Phase 2:

Strategic Coordination Center Hull

(2500 Unity, 15 000 Alloys); Effect: +50 Naval Capacity, +2 Starbase Capacity, +4 Defense Platforms, +5% Sublight speed
Phase 3:

Strategic Coordination Center Comms

(2500 Unity, 15 000 Alloys); Effect: +100 Naval Capacity, +4 Starbase Capacity, +8 Defense Platforms, +10% Sublight speed
Phase 4:

Strategic Coordination Center Completed

(2500 Unity, 15 000 Alloys); Effect: +150 Naval Capacity, +6 Starbase Capacity, +12 Defense Platforms, +15% Sublight speed
Note that the upkeep for this megastructure is 75 Energy Credits at its highest upgrade.
Pros and Cons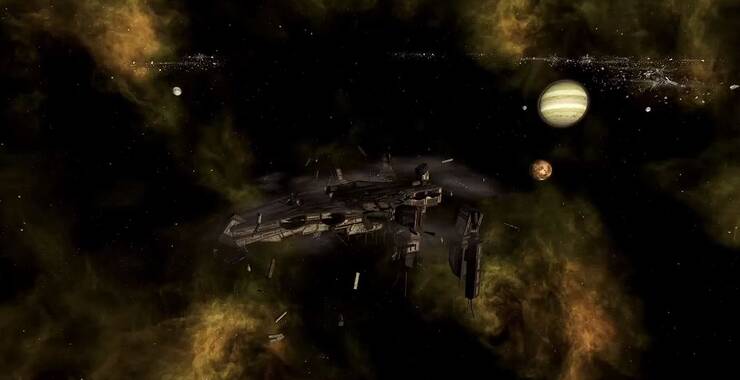 Image Credits: Paradox Interactive, Stellaris
So, the real question now is: Are these benefits that you get worth spending tens of thousands of Alloys, Influence, and taking various techs and ascension perks? Well, our stance is that all the megastructures are useful in Stellaris – it's just that some are better than others. Let's analyze the benefits that you get from having Strategic Coordination Center:
Increased Starbase Capacity (+6): It's always a good thing to have, especially late game. Keep in mind that on those Starbases you can build structures and modules that will further increase your stats such as Trade and/or Naval Capacity.
Defense Platforms (12): This one is fine, but in our opinion, if you need a tight choke point defended, it's better to go with a Fortress Habitat. It's much cheaper and much easier to build, providing pretty good defense.
Increased Naval Capacity (+150): This one is really nice as it increases your base Naval Capacity – so other modifiers will increase it even further. You will probably be getting +200 in mid-game and +300 in late-game when all the other modifiers kick in.
Increased Sublight Speed (+15%): Sublight speed has become more important due to recent changes in weapon design. Increased Sublight Speed will give you a tactical advantage, especially when dealing with Defense Platforms and long-range ships.
As you can see, there are quite a few benefits of having a Strategic Coordination Center but probably your biggest dilemma will be wheater you should build a Mega-Shipyard first. In our opinion, just by looking at the stats, Coordination Center seems to be better. However, this conclusion heavily depends on the stage of the game in which you are – if you are just trying to build your first megastructure and have no immediate threats, this will work fine. However, when things go south, having Mega-Shipyard can really be a game changer – especially in the late-game phase.
Final Thoughts on Stellaris Strategic Coordination Center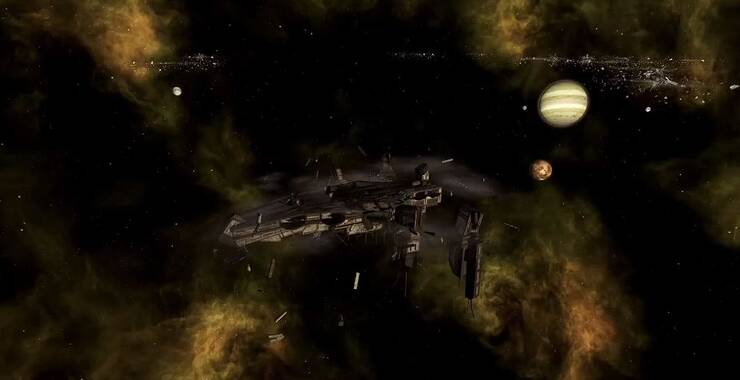 Image Credits: Paradox Interactive, Stellaris
To sum it up, Strategic Coordination Center offers various bonuses but comes with a high price. You should devise a plan for your next megastructure and try to predict the flow of your game when deciding whether you want to build it or not. If you built it at the right moment, it will influence Stellaris Gameplay a lot. Even if you make a mistake, passive bonuses that Strategic Coordination Center will still be beneficial.