There is a vast amount of choices when making your Stellaris custom empire. In this guide, we will try to be beginner and intermediate-friendly. If you want more of a general feel of the game, check out our Stellaris review. Nevertheless, we all know that one of the best parts of Stellaris is creating your very own Empire. You may want to try many different variations of Traits, Origins, Civics, and Ethics each time you create one. This all leads to you wanting to explore some good fun builds. We suggest you avoid looking up builds and the best ways to play the game since it can be a double-edged sword. Sure you will learn some cool builds, but it can take the fun away as you are just playing a build that is not yours but rather something that someone else discovered.
Origins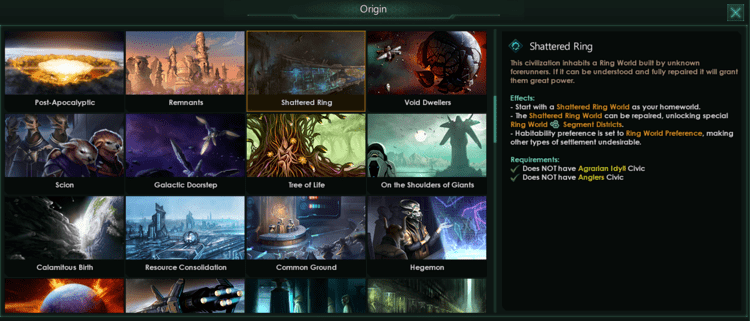 Regarding origins, you have a lot of choices. Keep in mind when playing Stellaris that you really can't try all of them multiple times if you don't play the game for over 100 hours. Honestly, we only tried about 10-15 since when we get comfortable with one, we want to play it a few times. If you want to know the most powerful ones, we made an origins tier list. There are a lot of origins and by nature, some are more powerful than others. We encourage you not to go by power, but rather by the feeling and the way you want to play the game.
Even though there is an "unbalance" regarding origins, we suggest you roleplay a bit and discover the powers for yourself. You can make almost anything work and this isn't the kind of game where you need to min-max (nerd out on numbers) everything. It just doesn't feel good. Nevertheless, we must say that imperial fiefdom is our favorite one since it creates a lot of unique situations. If you don't want to worry about origins right now, just pick Prosperous Unification or Machine World (if you're an AI), it will give you an "overall" boost.
Ethics & Civics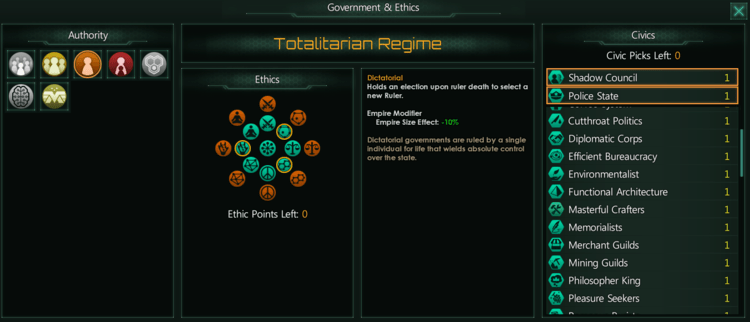 Ethics and Civics can be a bit more complicated. While origins can be an easy choice, Ethics, and Civics can create a lot of diversity in your build. You can only be one type of authority and you can't choose opposite ethics (ex. you can't be a materialist and spiritualist at the same time). Each ethic has a given set of policies that you can or can't use. While there are some wild builds, we suggest you go with the role-play if you are new to the game. The general role of thumb is that if you are a beginner, avoid some niche things like espionage since the mechanic isn't ideal at its current state.
Nevertheless, we encourage you to explore everything the game has to offer. "Different strokes for different folks" is perfectly applied here. We personally made an empire called "Papakik" which is a small "business" Megacorp Empire and combined it with a Xenophile/Materialist ethic and Imperial Fiefdom origin. This makes "Papakik" a friendly corporate vassal of a big empire. You get to make friends and open branch offices in other empires. When the time comes, the "Papakik" will have to step up and beat huge empires with the profits that they generated.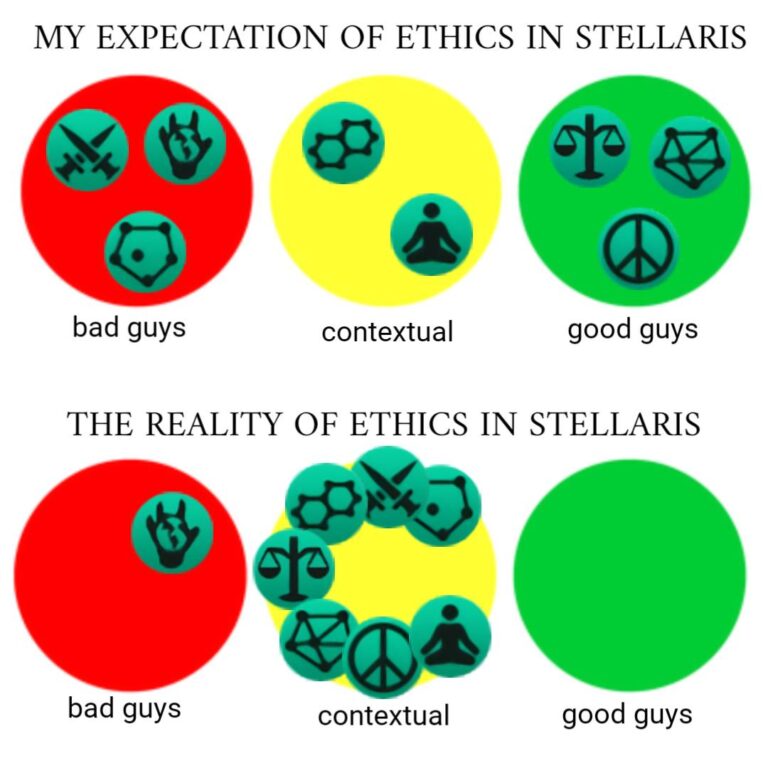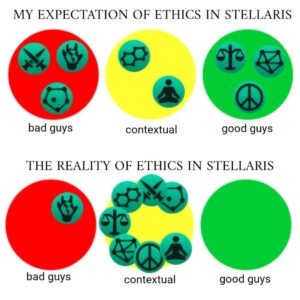 We mention this cause this is where the game shines the most. When you pick certain civics and authority types, the gameplay will naturally follow that role and style of playing (well most of the time). You will build a story of your very own empire and that is what Stellaris custom empire is all about.
Keep in mind a few things that can mess you up. Pacifist means you can only wage "defensive" wars which can be annoying sometimes and requires some proficiency in the game. Xenophobe means that other empires will generally be more hostile toward you, however, it will actually depend a lot. If the enemy doesn't have the same civics and ethics as you, chances are they are not gonna like that. So we always remember a popular Reddit meme:
Traits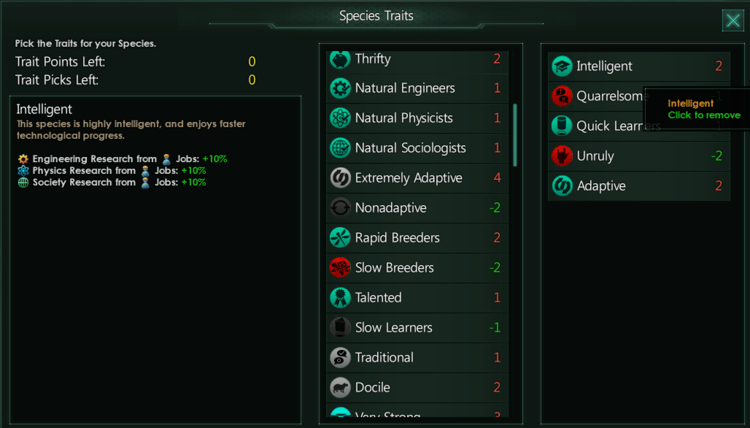 There isn't too much to be said regarding traits. You get points by choosing the negative ones and lose points by choosing the positive ones. Usually, just go with the role play and pick what you feel your type of civilization is going to be, or pick the ones that are "not annoying" like unruly and slow breeders, and pick the positive ones like intelligent, adaptive, and so on. They are pretty straightforward and generally don't have that much of an impact like origins and civics.
Stellaris Custom Empire Conclusion
Even though there are a lot of choices, try not to seek help too much when creating your empire. Generally, build your empire how you want and the gameplay will create a unique story.