We believe that we are not going to exaggerate if we say that humorous fantasy books enrich our lives. Life is not funny, at least not all the time. We all need a little escape from it every once in a while, and luckily there are various ways to distance ourselves from the worries that come daily. If you love to read, fantasy books are quite a good way to leave this world for a while and step into another one. Humorous fantasy books can do even more – make us laugh while we travel through imaginary worlds. We made a list of the best humorous fantasy books for you to enjoy.
Discworld Series – Terry Pratchett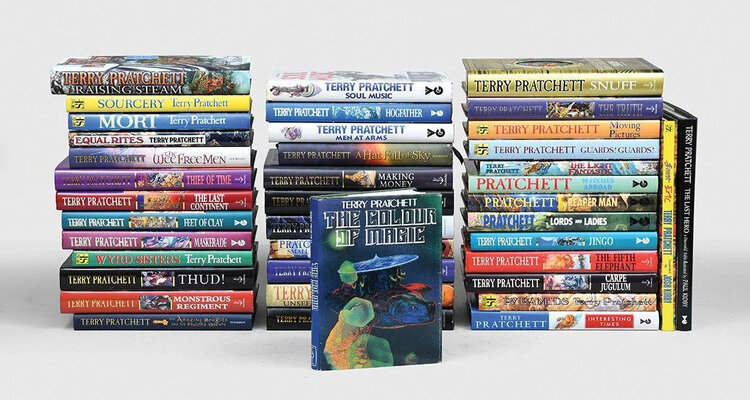 Terry Pratchett was a master of humorous fantasy. You can keep yourself entertained for a long time only with his Discworld Series. It contains more than 40 books! It's not necessary to follow the book order, but if you don't know where to start, it may be best to begin with the first novel from the series – The Colour of Magic. Discworld is full of great characters, and in this book, you will meet two of everyone's favorites – Disk World's worst Wizard Rincewind, and Death. Yes, you've read it correctly – Death. The Grim Reaper is one of the most hilarious and lovable characters of Discworld!
Discworld is, of course, fictional. It is flat, and it floats through space on the shoulders of four giant elephants. That's not all – the elephants stand on the shell of a huge turtle. It seems that Discworld has nothing similar to the one we live in, however, it's actually a mirror of it, and that's what makes the Discworld series so great, alongside Pratchett's natural talent for parody. You will recognize areas, historical events, and much more from our world.
Good Omens – Terry Pratchett and Neil Gaiman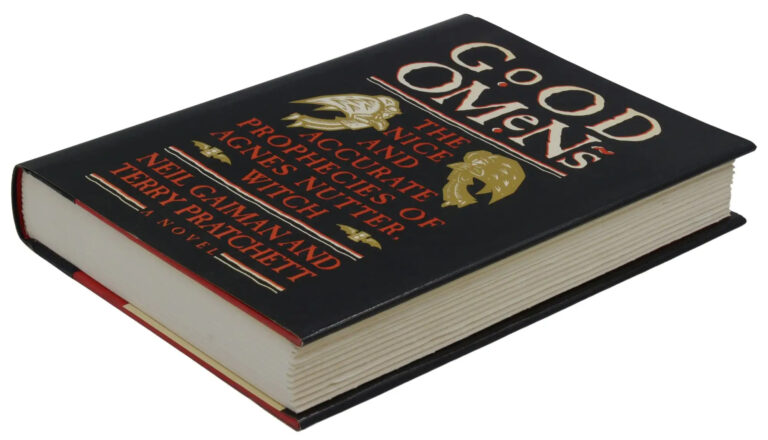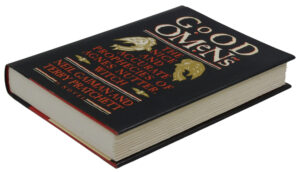 As we said, Pratchett was a master of humorous fantasy. Now imagine his cooperation with Neil Gaiman, another brilliant fantasy writer with an equally good sense of humor! We didn't expect less than an easy-to-read masterpiece of humorous fantasy, and we got it in Good Omens.
This book is the best parody of Armageddon in Literature. Demon Crowley and angel Aziraphale, who have been living on Earth since the Beginning, started to like their lives, so Armageddon was not what they wanted. They work together to try to stop it. Apart from these two characters, we meet Antichrist who just wants to play with his friends, a descendant of the witch who wrote accurate prophecy, riders of the Apocalypse (without Plague who retired when people invented penicillin so Pollution stepped in as a replacement), and many more.
There's also a Good Omens TV Series. Season 1 is a book adaptation (a great one), while season 2 is based on the script that Gaiman and Pratchett wrote for the sequel. Needless to say, we are terribly sorry that Pratchett passed away (or went earlier to avoid the rush, as he used to talk about dying) before they wrote the whole book.
J.W. Wells & Co. – Tom Holt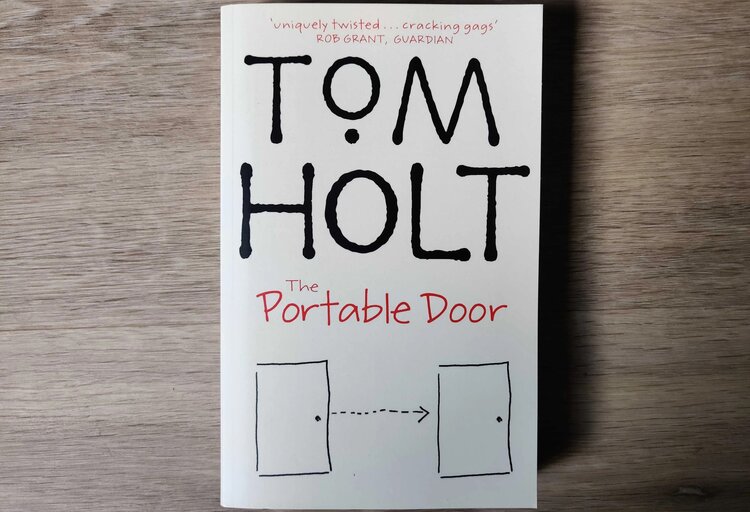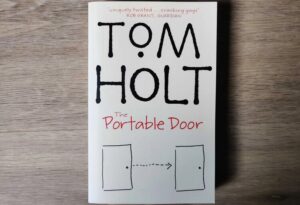 Tom Holt is best known for his humorous fantasy and fiction novels. The fact that his writing style is often compared to Terry Pratchett's speaks for itself.
J. W. Wells & Co. series is about a London company that is much less boring than all firms we heard or worked for. This firm is in the business of magic. In the first book of the series, The Portable Door, Paul Carpenter starts a new job. Check out what he discovers about J.W. Wells & Co, and if you enjoy the story, don't hesitate to entertain yourself with other books from this humorous fantasy book series – it's a funny parody of modern corporate practices.
If you like to watch movies based on books, there's a movie adaptation of The Portable Door. We haven't seen it yet so we don't know if we agree with relatively low rates on IMDB, but we are interested to see the brilliant Christoph Waltz as Humphrey Wells.
Ronan the Barbarian – James Bibby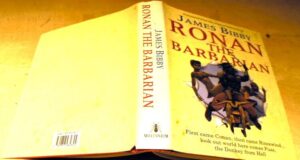 James Bibby was a TV comedy writer, so humor is his area of expertise. Now, when you see the book title Ronan the Barbarian, you expect a parody. And you'll find it in this novel – the first one of the Ronan trilogy (the other two are Ronan's Rescue and Ronan's Revenge).
The main character's family is dead, and he has to fight. The problem is he's not Conan, he's just a skinny teenager. Check out what other problems Ronan faces on his journey (a cheap sword is one of them) and meet the bored God of Atheists no one has prayed to for hundreds of years.
Goblin Quest – Jim C. Hines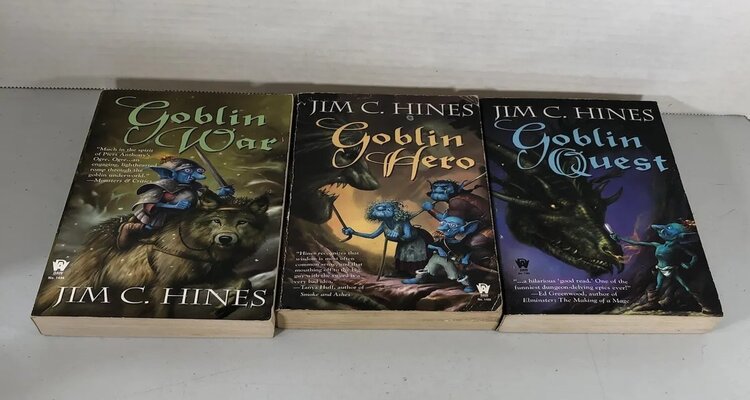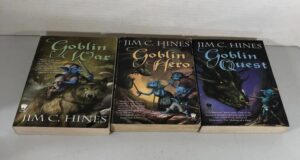 Does goblin on an epic adventure sound kind of ridiculous? It does because heroes in fantasy literature are not goblins who surrender on the first sign of threat. This is the first book of Jug the Goblin trilogy, and you may be interested to hear that Wil Wheaton described Goblin Quest as too cool for words.
Jig meets various creatures from goblin legends while he leads the adventurers, who search for a hidden magical artifact, through the tunnels. Circumstances demand heroism, which is not aligned with goblin's nature. Check out how Jig handled the situation, and if you like the story, follow this unique goblin in other two books of the trilogy – Goblin Hero and Goblin War.
The Hitch-hiker's Guide to the Galaxy – Douglas Adams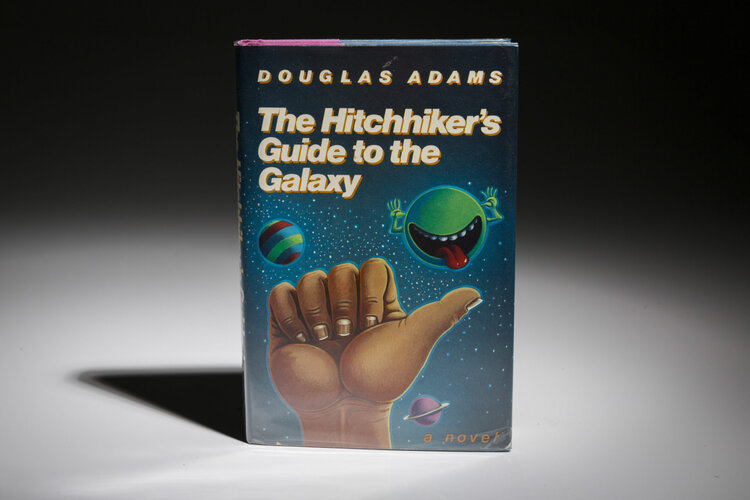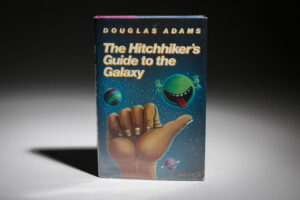 Although The Hitch-hiker's Guide to the Galaxy is not a humorous fantasy but a comedy science fiction novel, we decided to put it on this list because it's one of the most famous humorous fiction titles in Literature. It was published in 1979, but people of all generations still read it today because the best books never get old. If you still haven't read it, what are you waiting for?
Arthur Dent and Ford Prefect are on a journey through space and they meet other, strange and interesting, space travelers. In a unique humorous way, the story opens many questions, and there's something to make you laugh in every chapter of the book. If Terry Pratchett wrote science fiction instead of fantasy, it would probably be something similar to The Hitch-hiker's Guide to the Galaxy.